Opening Words
Message from the UNCAC Coalition Chair
by Manzoor Hasan, 29 July 2015
This is the time of year when members of the UNCAC Coalition and others prepare for the upcoming Conference of the States Parties (COSP) in St. Petersburg whilst learning from the valuable insights gained during the Implementation Review Group (IRG) civil society briefing in Vienna. One of these insights is the need for continued advocacy for civil society participation in UNCAC-related bodies.
Continue reading →
Slow start to preparations for UNCAC Conference of States Parties in November 2015
by Gillian Dell, Transparency International Secretariat, 26 July 2015
Considering the importance of the corruption issue and the strong public demand around the world to see it addressed, it is perhaps surprising that UNCAC gathering are such low-key affairs compared with the high profile summits that are keeping governments busy this year. This is possibly because UNCAC meetings are quite process-oriented and technical. Some of those involved see the low profile as having the benefit of reducing the level of politicisation and increasing the possibility of progress. Continue reading →
IRG Advocacy Focus
Tackling money laundering: a UK perspective
by Dr. Robert Barrington, Executive Director of Transparency International UK, 22 June 2015
Recent events in Ukraine have shone a light on the quantity of Ukrainian and Russian money invested in the UK. Coming hard on the Arab Spring, this has raised many interesting questions: how much is of corrupt origin, what checks were made and who should be responsible for ensuring the UK does not become a safe haven for the world's corrupt elite? Continue reading →
Special measures against grand corruption
by Akaash Maharaj, CEO of the Global Organisation of Parliamentarians Against Corruption (GOPAC), 21 June 2015
Every year, corruption kills 140 000 children worldwide, by depriving them of medical care, food, and water. Yet, far too often, the perpetrators of the most outrageous acts of corruption are able to use their illicit wealth and power to pervert the very laws and institutions that should call them to account. As a result, the worst offenders are the least likely to face domestic justice. Continue reading →
UNCAC review in Tunisia: The ownership dilemma
by Achref Aouadi, President of I WATCH, 1 July 2015
The UNCAC review in Tunisia began well even before its official start date in 2013. Civil society preparations commenced in 2012 when I WATCH attended a training session in Johannesburg jointly organised by UNODC and the UNCAC Coalition.
Continue reading →
The connection between corruption and shrinking civic space
by Cathal Gilbert, CIVICUS, 21 July 2015
Citizens everywhere are finding it more and more difficult to have their voices heard. All over the globe, peaceful protestors are brutally attacked, investigative journalists are threatened and organisations promoting rights are raided or shut down.
Continue reading →
Interviews
Interview with Ambassador Bente Angell-Hansen, Royal Norwegian Embassy, Vienna
by Shaazka Beyerle, 4 June 2015
What are your first impressions of this year's IRG?
We are at the start of preparations for the St. Petersburg Conference of the States Parties to UNCAC (CoSP) (November 2-6, 2015). I came today [to the UNCAC IRG Briefing for NGOs] to listen to the views of civil society and to take them into consideration when establishing Norwegian positions. Continue reading →
Interview with Angelica Maytin Justiniani, Director General of the National Authority on Transparency and Access to Information
14 July 2015
What was your role during the IRG session in June 2015?
My role at the past IRG session in Vienna was to chair the meetings because of my position as President of the Conference of the States Parties. The Republic of Panama was elected President of the Fifth Session of the Conference of the States Parties to the United Nations Convention against Corruption, which was held in Panama from 25 to 29 November 2013. Continue reading →
Interview with Mark Lugton, Detective Constable, Operations, UK Overseas Anti-Corruption Unit
23 July 2015
What is the role of the City of London Police (CoLP) regarding corruption and laundering of proceeds of corruption?
Until 29 May 2015, the CoLP had responsibility for investigating all international bribery and corruption offences committed by UK nationals and companies abroad – focusing specifically on countries that received international foreign aid from DFID (UK Department for International Development). Continue reading →
Coalition updates
UNCAC review reports
Since December 2014, the following UNCAC review reports have been released:
Executive summaries: Bahrain, Cook Island, Egypt, FYR Macedonia, Ireland, Israel, Kiribati, Liechtenstein, Madagascar, Marshall Islands, Qatar, Slovenia, Sri Lanka, Tunisia
Full country reports: Armenia, Bolivia, Italy, Liechtenstein, Luxembourg, Nigeria, Russia
Civil society reports: Haiti, Poland, Tunisia
Official country reports are available on both the UNODC website and on the UNCAC Coalition website. Civil society reports can be viewed on the UNCAC Coalition website.
Coalition Coordination Committee election results
Following elections ending on 15 April 2015, the UNCAC Coalition Coordination Committee welcomed five new members:
| | |
| --- | --- |
| International | Christine Clough, Global Financial Integrity |
| Asia-Pacific | KM Loi, TI Malaysia |
| Europe | Grzegorz Makowski, Stefan Batory Foundation |
| Middle East & North Africa | Achref Auoadi, I WATCH |
| Sub-Saharan Africa | Gladwell Otieno, AfriCOG |
A warm thank you to the outgoing members of the Coordination Committee for their dedicated service. Those are TAN Philippines (Vincent Lazatin), Transparency International-Macedonia (Slagjana Taseva), Transparency Maroc (Saad Filali Meknassi) and Zero Corruption Coalition (Auwal Musa). Each of them served two terms. Slagjana Taseva and Vincent Lazatin were respectively the Coalition's first and second Chairs and provided outstanding leadership during their terms.
UNCAC Coalition Coordination Committee elects Chair and Vice-Chairs
The UNCAC Coalition Coordination Committee met on 5 June and agreed on the following appointments of Chair and Vice Chair:
Chair: Manzoor Hasan (continuing)
Vice Chair: Christine Clough (continuing)
Vice Chair: David Banisar (continuing)
Vice Chair: KM Loi (new)
New Anti-Corruption Resources and Events
IACC Registration
The 16th International Anti-Corruption Conference will take place this year in Putrajaya Malaysia on 2-4 September. Registration for the Conference closes on August 14. The Conference will be jointly hosted by the Government of Malaysia, the Malaysian Anti-Corruption Commission (MACC), the Malaysian Society for Transparency and Integrity (TI Malaysia), and the Transparency International Secretariat.
The theme of the conference is Ending Impunity: People. Integrity. Action. The organisers welcome 800 participants from around the world for plenary debates and workshops to discuss what we can do to end impunity for corruption.
ProfessorUNCAC Blog
ProfessorUNCAC is a new anti-corruption blog space initiated by lawyer and anti-corruption expert Keith Henderson. An UNCAC Coalition member, Keith has been teaching students and professionals about curbing corruption for almost two decades and in over 50 countries. The new blog aims to feature content from experts around the globe and to explore a range of UNCAC-related topics. One of the main ideas behind the new site is to help promote UNCAC awareness, understanding and coalition-building among key stakeholders, with a keen eye on the human rights, business, education, research and anti-corruption communities, among others. Learn more about the scope and potential of the UN Convention against Corruption (UNCAC) and how it relates to a variety of issue areas such as development, governance, gender, security, climate change, and much more!
GOPAC Newsletter – June 2015 edition
The latest edition of the GOPAC newsletter includes a Global Conference update, introduces new chapters, and outlines events in Austria, Fiji, Serbia & Tonga.
CIVICUS – State of Civil Society Report 2015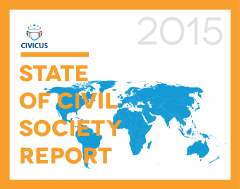 CIVICUS' recently released report offers a comprehensive picture of civil society and the conditions it works in around the world. The 2015 report draws from a series of inputs contributed by members of the CIVICUS alliance, including thematic inputs from civil society leaders and experts, a survey of national level civil society networks, and interviews with people close to the key civil society stories of the day. This year's report has focuses on the resourcing of civil society.
UNCAC Coalition website thematic pages on access to information and whistleblowing
The UNCAC Coalition website features two new thematic pages on:
Statements to the 4th UNCAC Implementation Review Group Briefing for NGOs
The UNCAC Coalition website contains a collection of documents from the 4th UNCAC Implementation Review Group Briefing for NGOs in Vienna on 4 June. This includes the UNCAC Coalition statement "Making UNCAC Work" (available in Arabic, Chinese, English, French, Russian and Spanish), which outlines the UNCAC Coalition's proposals for the upcoming COSP in St. Petersburg. You can also find the Transparency International statement, as well as the agenda and panel presentations from the briefing, and more.
Calendar
Important upcoming dates for UNCAC and other international anti-corruption meetings
| | |
| --- | --- |
| 31 August – 4 September 2015 | UNCAC Working Groups on Prevention and Asset Recovery, Vienna, Austria |
| 2–4 September, 2015 | 16th International Anti-Corruption Conference (IACC), Putrajaya, Malaysia |
| 2–3 November, 2015 | 4th session of the Open-ended Intergovernmental Expert Meeting on International Cooperation, St Petersburg, Russia |
| 3–4 November, 2015 | Resumed 6th session of the Implementation Review Group, St Petersburg, Russia |
| 2–6 November, 2015 | Sixth session of the Conference of the States Parties to the United Nations Convention against Corruption, St Petersburg, Russia |
| 9 December 2015 | International Anti-Corruption Day |
Member in the Spotlight
Socio-Economic Rights and Accountability Project (SERAP)
We are dedicated to promoting transparency and accountability in the use of Nigeria's natural resources. We believe that Nigeria's large natural resource base should be used to meet the basic needs of its population. We are committed to increasing the legal protection for internationally recognized economic, social and cultural rights, and to securing respect for these rights. Continue reading →
Photos from the IRG
4th UNCAC IRG Briefing for NGOs at UN Vienna
This UNCAC Coalition Newsletter was produced by Gillian Dell and Karl Sorri of the Transparency International Secretariat Conventions Unit, which acts as secretariat to the UNCAC Coalition. It was produced with the assistance of consultants Rebecca Dobson (text editor) and Kai Chan (web developer).
The UNCAC Coalition Newsletter is funded by the Sigrid Rausing Trust.