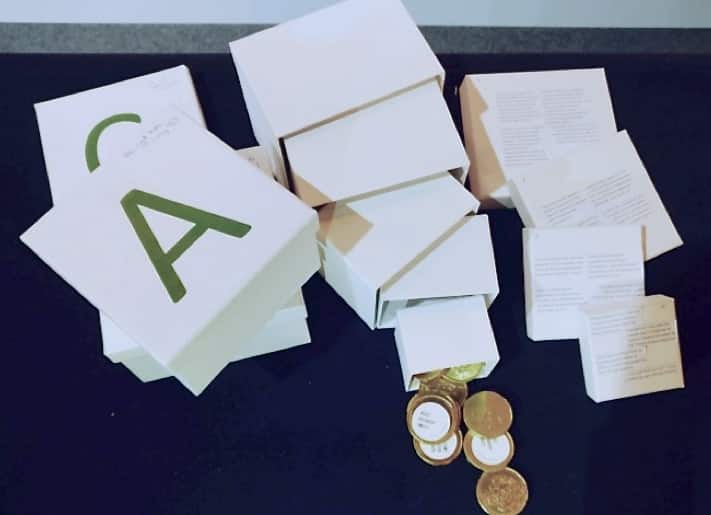 13 January 2020 –
This quick and simple game puts the player in the role of an investigator who needs to track down the persons who stole €100 million in a corruption scandal.
As the player takes step after step to track down the owners of a company, it becomes clear how difficult access to company ownership information can be, underlining the importance of publicly accessible registers of beneficial ownership information. Such open registries include information on the individuals who ultimately control companies (and other relevant legal entities, such as trusts and foundations) and are an effective tool against the use fo shell companies that have been relentlessly used in corruption schemes, for money laundering and in other crimes around the world.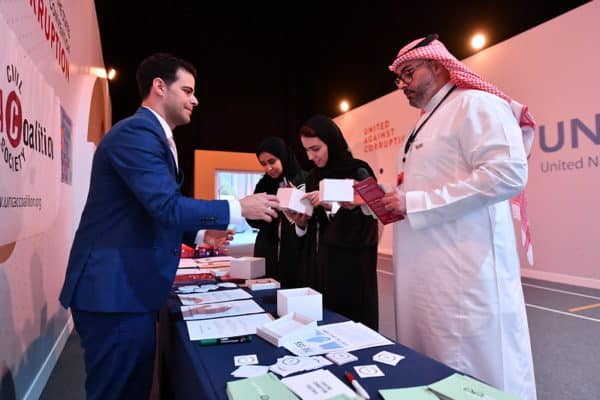 The game, which only takes about 2-3 minutes to play, was piloted during the Conference of the States Parties to the UNCAC in Abu Dhabi from 16-20 December 2019, where delegates, as well as civil society representatives, enjoyed playing it.
The instructions and country scenarios are only available in English here. For more information on the BO Transparency box game and language versions in French, Spanish or Arabic, please contact us under email hidden; JavaScript is required. We are happy to get your feedback on the game, so we could reflect it in a future version of the game.
Instructions
PLAY A GAME – WIN A PRIZE! (MAYBE)
You are an investigator who has been tasked with following the money trail and finding evidence that a senior public official has embezzled €100 million in relation to the construction of a public children's hospital.
Previous investigations show that the bribe was deposited in bank accounts in three different foreign countries under the name of a shell company – Unscrupulous LLC.
Choose a country (box A, B or C) and follow-the-money to find the evidence needed to prosecute the perpetrators and return the assets. Take out the box inside the box until there are no more left to be opened.
Were you able to find the real owner of the company? If yes, there may be some chocolate coins inside the last box as a reward. If not, then better luck next time.
What you need
3 sets of 5 boxes inside each other (total of 15 boxes) – preferably white or a light colour
A computer and printer, paper, a pair of scissors and glue (alternatively: a pen and paper)
Chocolate coins or any other small prize you can think of
Prepare the game
Step 1: Print out the instructions and country scenario clues (under downloads at the bottom of this page) .
Step 2: Mark the outer most boxes: A, B and C. Then cut out the different clues of the country scenarios and glue them onto box 2-5 for country A, B and C, respectively.

Alternative: Write the instructions onto a blank sheet of paper, then write A, B and C on the outer most boxes and the country scenarios clues onto boxes 2-5, respectively.

Step 3: Place a few chocolate coins or the prize of your choosing into country C's smallest box.
Now you're ready to play the game!
Country A
Box 1: Country A does not have a central register of beneficial ownership information, so you have to find out in which bank Unscrupulous LLC has an account.
     Box 2: After, asking every bank in the country for information, and   overcoming bank secrecy restrictions, 8 months later, Shay-D Bank provides you with information on the account for Unscrupulous LLC.
          Box 3: Shady-D Bank tells you that the accounts have been cleared 2 months ago but you can go after the owner of the account who is….
               Box 4: Got-Ya LLC! No information is available on who is the owner of Got-Ya LLC as it is incorporated in another country, but you know the Managing Director is called Mr. Ghost. The bank only has what seems to be a fake ID for Mr. Ghost.
Oh no, you did not manage to resolve the case :(. Better luck next time!
–
Country B
Box 1: Country B has a register of beneficial ownership information that is open only to national law enforcement agencies. You draft an international cooperation request which takes you 5 months to get the necessary approvals.
     Box 2: You've received a positive response from County B's government regarding access to their beneficial ownership register. However, it is one of many requests that need to be processed, so it will take a little time.
          Box 3: 5 months later, you get access to the register for country B and find out that the real person that owns Unscrupulous LLC is… 
               Box 4: …a trust fund! As it turns out, country B does not require to hold information on beneficial owners of trusts.
Oh no, you did not manage to resolve the case :(. Better luck next time! 
–
Country C
Box 1: Country C has an open and freely accessible central register of beneficial ownership. The information is verified by an independent government institution and there are strict regulations on professions that establish legal entities.
      Box 2: You access the BO register of Country C and find out that there is a chain of 5 companies and 2 trusts that own Unscrupulous LLC.
          Box 3: You find that that the ultimate owner of all 5 companies, who controls the 5 companies and two trusts is Minister Crook!
               Box 4: Congratulations – you have the evidence to convict Minister Crook and recover the €100 million embezzled.
Congratulations, you solved the case! For solving the case, the player receives a few chocolate coins/a prize.
Game developers: UNCAC Coalition Vienna Hub team (Mathias Huter, Danella Newman and Charlotte Honnigfort), UNCAC Coalition Consultant Paul Zoubkov; and José M. Marin Aguirre, Programme Coordinator, Public Sector Integrity at Transparency International
Photo Gallery
Downloads
UNCAC Coalition – Beneficial Ownership Transparency Box Game – Instructions
UNCAC Coalition – Beneficial Ownership Transparency Box Game – Country Scenarios