---
Please present yourself:
I am Rajen Bablee, the Executive Director of TM since mid-2012.  Before joining TM, I have been, over the years, a police officer, a Chief Investigator at the Independent Commission against Corruption (ICAC), a part-time lecturer at the University of Mauritius on Good Governance, and an award-winning journalist (CNN/Multichoice African journalist of the Year in the French print category). The investigation was about a corruption case in the Mauritius Ports Authority (MPA) and it led to several arrests, including that of the Chair of the MPA.
What are your organization's main goals?
We believe that there is a deeply ingrained culture of corruption in Mauritius. For that reason, to be able to fight corruption in Mauritius we need to take that culture into account by identifying the symptoms and providing the remedy to reverse or attenuate that culture;
New legislation relating to Freedom of Information, funding of political parties, limitation of tenure for the post of Prime Minister or for the protection of whistleblowers must be enacted;
To advocate for institutions being able to operate independently and without being influenced by political interventions.
How does your organization operate?
Transparency Mauritius (TM) is the local chapter of Transparency International in Mauritius. While we follow the global strategy of Transparency International, we also have the autonomy to focus on issues which are specific to the national context. We work both with the public and private sectors, as well as engaging with the general public and the youth.
Transparency Mauritius is registered as a company limited by guarantee and is a non-profit organization. Our sources of funding are from our members which include both corporations and individuals. We also provide paid services to the private sector in terms of training on good governance, ethics, whistleblowing and investigative journalism, among others. We receive funding from different foreign representations, such as the EU, the Australian High Commission, and the US embassy for specific projects where administrative costs are also partly covered sometimes.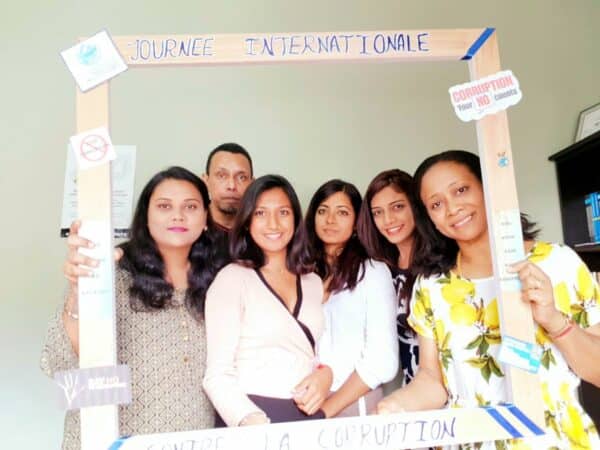 The Transparency Mauritius Team
What are the biggest successes your organization has accomplished in the field of anti-corruption in the past years?
Transparency Mauritius engaged with the Police Force with the aim to address issues of ethics. The project culminated with the publication of an 'Ethics Guide for the Police' which was distributed to all members of the Force.
The above project was replicated with the Mauritius Prisons Services. Training on anti-corruption measures and ethics were dispensed to prison officers and an 'Ethics Guide' was also published and distributed to all officers.
TM worked on three Youth Parliaments (or Youth Fora) both in Mauritius and Rodrigues. Youth between 18 and 25 years of age were given a platform to discuss societal matters such as the funding of political parties, freedom of information, sustainable development and corruption. Their ideas and proposals were incorporated into documents which were circulated to all stakeholders, including the Government.
Although there is no Whistleblowers' Protection Act in Mauritius, TM succeeded in encouraging the private sector to implement voluntary whistleblowing policies and has been working actively with around 10 corporations since 2013.
Engaging with the media and promoting investigative journalism as a tool against corruption, and being a partner with the Media Trust for an annual investigative journalism award.
What are the key challenges specific to your local context that your organization has been facing?
Funding has been the main obstacle to the development of Transparency Mauritius. The fact that Mauritius is seen as a medium to high income country has sometimes slowed international donor support for our projects.
Working with the national anti-corruption body, though necessary for the interest of our common mission, has sometimes been difficult, mainly due to the reluctance to accept criticism and the absence of a formal roadmap.
Even if TM's activities and interviews are regularly in the media, it still suffers from a lack of visibility mainly in rural areas.
In an insular state, the absence of a direct line of communication with the Government can affect the impacts of our work and scope.
What can other organizations learn from you?
It is important to develop partnerships at all levels: the public sector, the private sector as well as civil society and professional bodies. We cannot engage in the fight against corruption alone – the more the merrier.
The private sector's models are geared towards profitability. Thus, they would not necessarily support an NGO if somewhere along the line, it does not benefit from that partnership. It must be a win-win situation to be fruitful in our mission.
Criticizing or shaming people or institutions does not create a sound working environment. Dialogue is an important component of our mission. It is crucial to get the buy-in of our stakeholders and convince them that we can find solutions together instead of, for example, patronizing each other.
Networking is important in the life of an NGO engaged in a technical mission. It is paramount to keep up with news, trends, developments and to be seen as a professional organization.
To what extent has your organization been involved in the UNCAC Review Mechanism?
It is strange to see that the institutional or national focal point of the UNCAC/UNODC happens to be the Independent Commission against Corruption. The ICAC is a compliance authority and, as such can only make proposals to the Government which is the real policy maker. As a body whose head is appointed by the Prime Minister and who is perceived to be a political nominee, its independence and opinions are questionable. Being also an investigative body (other than a prevention and educational body) with respect to corruption and money laundering, the ICAC's position and interests may result in a complicated situation while, for example, the review is being conducted. It might have been more sensible to appoint the ministry of Financial Services and Good Governance as the focal point. This being said, TM was called to meet with the reviewers and there were also broad discussions with ICAC officers.
What motivates or inspires you to work in anti-corruption?
I would say there are two prongs to my motivation. Corruption is a sophisticated way of stealing. Investigation being a passion, it is challenging to unveil the mechanism of corrupt activities and money laundering. Secondly, as a responsible citizen, I believe in equality of opportunity and meritocracy and hate witnessing situations of 'passe-droits' (privileges and favors).
What is an anti-corruption achievement you are proud of?
I felt most satisfaction in the fight against corruption as a journalist. With TM, we are more engaged in advocacy and training. There are a few investigations I conducted as a journalist, where I sincerely believe that change occurred. One of the projects we recently did, and which I like a lot, is an anti-corruption video clip which was launched for the International Day against Corruption (9 December).
What have you learned from your organization's work in anti-corruption that could be useful to others?
We have read about and worked on several anti-corruption tools which have been developed by Transparency International. We have also developed two courses, namely that of investigative journalism and Good Governance, Ethics and Whistleblowing. We have run the IJ course in Seychelles and Madagascar at the request of the local TI chapters.
Why is it important for you and your organization to be a member of the UNCAC Coalition?
We are on a perpetual learning curve and we know that the UNCAC Coalition can help us to improve. It is also credible. Given that Mauritius has ratified the convention, it means that it has to abide by the requirements of the UNCAC. As a member of the UNCAC Coalition, I believe we will be having added impetus to questions posed by the Government as well as the ICAC.