12 April 2017, by David Ugolor, ANEEJ.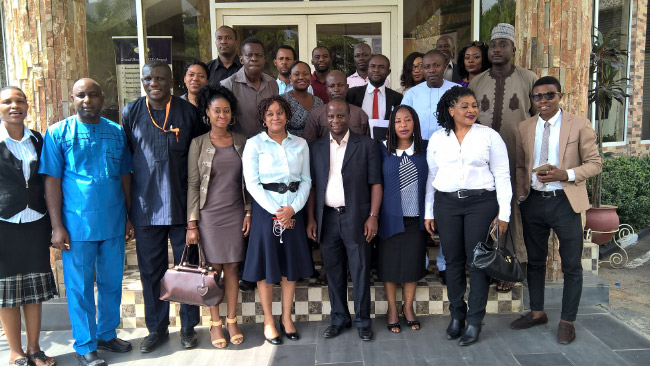 Participants at the OGP-UNCAC Review workshop organised by ANEEJ
The Africa Network for Environmental and Economic Justice (ANEEJ) is working to enhance the capacity of civil society including journalists to support the Nigerian government in its efforts related to the UNCAC review mechanism and the Open Government Partnership (OGP).
On 29-30 March 2017, through its Civil Society Advocacy to Support Anti-Corruption in Nigeria (CASAN) project, ANEEJ organised a two-day training session on UNCAC reviews and the OGP; attended by 30 civil society organisations, as well as representatives of the Ministry of Justice and the Economic and Financial Crimes Commission (EFCC).
The training session was a great success with a number of positive outcomes, including some participants issuing press releases and ANEEJ publishing several articles in national newspapers. The twitter analytics of the event showed over 1.1 million impressions. As a result there was considerable media attention for the project.
The Bureau of Public Procurement, a major partner in the delivery of the training, leveraged the opportunity to present the yet to be launched open contracting portal and got useful feedback to improve it.
Another success was that civil society completed an independent assessment of Nigeria's implementation of some UNCAC articles, on which they are now prepared to meet with the official from the reviewing countries during the country visit scheduled for 8-12 May 2017.
Following the workshop and previous meetings ANEEJ had with the UNCAC review secretariat and focal points, ANEEJ was invited to participate in the UNCAC review preparations.
A training session for another 30 civil society organisations and journalists is currently on-going in Lagos, 11-12 April 2017.
Note: The CASAN project is supported by the UN Development Program under the European Union funded 10th European Development Fund.