10 March 2022 –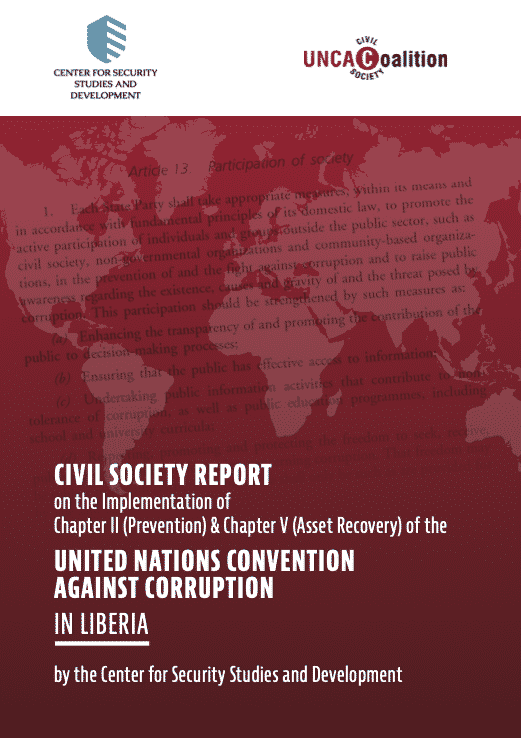 While Liberia has made significant progress towards developing normative legal frameworks for the implementation of articles of Chapter II (Preventive Measures) of the United Nations Convention against Corruption (UNCAC), some gaps persist, especially regarding their actual implementation on the ground. The country still has a long way to go to develop an adequate framework to implement articles of Chapter V (Asset Recovery) of the UNCAC. These are the main findings of a new civil society report authored by the Center for Security Studies and Development. The CSO produced its report, which is intended as a contribution to the UNCAC implementation review process in its second cycle, with technical and financial support from the UNCAC Coalition.
After two consecutive civil wars between 1990 and 2003, both the former and current presidents of Liberia have repeatedly pledged to undertake serious efforts to counter corruption. Nevertheless, a lack of political will to implement anti-corruption laws, the President's almost all-encompassing power to appoint heads of all anti-corruption institutions and judges, continued impunity for corruption offences, and Liberia's anti-graft institutions' very limited financial and human resources and prosecutorial powers are some of the main barriers to effectively fighting corruption in the country. Given the weakness of the currently enacted anti-money laundering regime and the failure of responsible authorities to recover stolen assets, Liberia is currently not complying with UNCAC Chapter V.
Recent corruption investigations into high-level politically exposed persons and to uncover shell companies in 2021 and early 2022, as well as other increasingly targeted activities of Liberia's core anti-graft institutions, give reason for optimism, however. In 2021, the Weah administration submitted four bills to the Legislature which seek to address some of the most blatant gaps in Liberia's legal anti-corruption framework, increasing the Anti-Corruption Commission's powers, enacting better protection measures for whistleblowers and stricter anti-money laundering regulations, amongst other changes.
The official UNCAC review process in Liberia was scheduled to begin in 2018. Despite representatives from the Liberia Anti-Corruption Commission answering questions for this report, very little information on the status of the review process was shared. While they did indicate that certain anti-corruption and access to information CSOs had been invited to provide input during the review, no more information was revealed. It seems that the parties involved are currently working on the executive summary of the review. The review documents will be available on Liberia's UNODC country profile page once they are finalized.
Read the full civil society report in English here.
Main findings
The following are some of the main findings according to topic:
Public sector employment
 Both the Liberian Constitution and the 2013 Manual of the Civil Service Agency contain strong provisions pertaining to the hiring of public servants, which shall be hired according to merit and seniority, based on equality. In practice, however, both the incumbent party and its predecessor have been accused of allowing nepotism, sectionalism and political affiliation to be the deciding factors in allotting positions in the administration.
Political financing
Liberia enforced a strict legal framework in 2016 that set clear rules for the funding of political candidates, parties, and campaigns. While the Liberian constitution requires every political party to declare their assets and liabilities to the National Elections Commission on September 1 of each year, this has not been followed in practice, which renders it harder for citizens to trace political financing within political parties. Although all three elections since the end of the civil war in 2003 were assessed as largely fair and free, a worrying trend has emerged, the so-called "voters trucking", where political candidates pay voters to travel to different geographic regions of the country beyond their home region to cast their ballot several times.
Codes of conduct, conflicts of interest and asset declarations
 An executive order issued in 2012 and the National Code of Conduct (COC) of 2014 defined clear standards of behavior and conduct by public servants and all other members of the executive branch of the Liberian government. The COC includes a controversial, and in practice, mostly ignored provision that says that appointed officials who intend to run for political office must quit their job at least two years before elections are held (three years in the case of tenured elections). Moreover, only a very low number of public officials actually comply with the COC's requirements to declare potential conflicts of interests and the assets, and those who do sometimes conceal parts of their assets. No real verification system is in place and there is no legal requirement for the Liberia Anti-Corruption Commission (LACC) to make asset declarations public, except when a party makes a request to get access to a specific declaration through court. A proposed bill envisions a stricter oversight system for the LACC and sanctions for non-compliers.
Whistleblower protection
Whistleblower protection is barely institutionalized in contemporary Liberia. Since 2009, there have been different consecutive orders offering minimum protection to whistleblowers, banning retaliation against them. However, this incomprehensive legal protection framework has failed to mitigate whistleblower harassment and some individuals who were considered whistleblowers have disappeared under mysterious circumstances. The Liberian government has recently renewed its pledge to pass the Whistleblower and Witness Protection Act and establish a witness protection unit. This, alongside envisioned projects to help facilitate and streamline whistleblowing, could be the potential new stimulus to finally protect whistleblowers in Liberia.
Public procurement
The Public Procurement and Concession Act (PPCA) established a solid legal framework on procurement in 2010. The government body in charge of monitoring public procurement procedures, the Public Procurement and Concession Commission (PPCC), has been commended for doing a good job despite its limited resources. However, although a rudimentary e-procurement platform does exist on the PPCC website, power cuts and insufficient funding have prevented a vibrant monitoring system from being established until today. Consequently, public procurement data is very hard to access for the public, being neither in open data formats, nor on time or in one cohesive information channel. These capacity constraints are one of the main reasons why the PPCC still reviews an unsatisfactorily low share of public contracts that have been awarded, and why it has not published its Annual Compliance Monitoring Reports since 2018.
The government plans to establish an e-procurement platform which will be linked to other online platforms such as the revenue portal of the Liberian Revenue Authority and the Liberian Business Registry to strengthen the cooperation between different anti-graft institutions. Moreover, the PPCC and the National Bureau of Concessions have recently intensified efforts to enhance the role of the media and the civil society in monitoring public procurement in Liberia by organizing workshops to facilitate information dissemination regarding public procurement, and holding regular meetings with CSOs. 
Public finances
The 2009 Public Finance Management Act and its amendments from 2019 put in place rules and regulations that government institutions must adhere to when spending and transferring public funds. The General Auditing Commission conducts only around 35-70 audits every year and publishes reports on its website, though not in a timely manner. The Commission has uncovered some instances of unlawful transactions of government institutions, but does not have the prosecutorial powers to follow up on these findings, as well as limited impact in its recommendations for action. Other restrictions to the Commission's work are its lack of independence from the Ministry of Finance when submitting its budget, overall insufficient funds and inadequate technical equipment to effectively conduct its work. The other two auditing bodies in the country suffer from similar restrictions. The Liberian government has used the Voluntary Review on the Implementation Status of Liberia's Vision 2030, which it published in 2020, to announce its ambition to audit 99% of all government bodies. This bold objective is linked with serious investments in the GAC's and IAA's human resources and technical capacity.
Access to information and civil society participation
 Ranking 10th best on the Global Right to Information Rating confirms that Liberia's legal framework for the right to information is very good compared to many other countries around the world. The 2010 Freedom of Information Act (FOIA) grants individuals the right to file their request orally, in writing or electronic mail without having to state any reasons. However, this does not reflect the challenges the country faces in implementing the FOIA.
Individuals hardly request information and the government lacks the will and technical capacity to respond to the requests it receives. Liberia's Independent Information Commissioner (IIC) has been faced with a number of challenges, including limited funding and a lack of professional staff, among other obstacles. It set up InfoLIB, a non-governmental online platform, in 2016 to facilitate the process; however, people barely seem to use it which arguably relates to the government's slow or non-existent response rate. The sanctions as written down in the FOIA also do not seem to be implemented in practice.
Liberian CSOs regularly and actively contributed to policy-making in Liberia. Different anti-corruption bodies have reached out to civil society, allowing them to contribute to their daily work or join forces to eradicate corruption. While this can be considered a positive trend, an increasing number of journalists critical of the Liberian government have experienced physical attacks in 2020 and 2021, which may disincentivize some civil society and media representatives to investigate and unveil corrupt practices.
Independence of the judiciary
Formally independent, domestic and international observers have repeatedly described Liberia's judiciary as being influenced by private and government actors alike. In May 2021, it was the Chief Justice of the Supreme Court of Liberia himself who stated that corrupt practices plague Liberia's judiciary. Paying bribes to secure a favorable verdict therefore seems to remain a common approach, with acting Senators being involved in high-level corruption investigations by the US Treasury Department. Moreover, the judiciary has also been accused of low levels of efficiency which is partly due to the presidential power to appoint judges of subordinate courts and other officials in the judiciary. With recent budget cuts to the judiciary, judges have sued President Weah's government in front of the Supreme Court in reaction to their plummeting incomes. While the judicial branch is the branch of government with the highest number of submitted asset declarations, there is no system in place to monitor them efficiently.
Private Sector transparency
Liberia has gained notoriety for its long-standing role as one of the world's core secrecy jurisdictions among experts on the fight against corruption. The 2020 Financial Secrecy Index assesses Liberia as "exceptionally secretive" and other organizations have put Liberia on several tax haven blacklists. The country's lay monitoring regulations have rendered Liberia an important tax haven, particularly with regards to the shipping sector. A Beneficial Ownership Registry is yet to be established in Liberia, but the government has committed to creating one within its 2020-2022 Action Plan. Similarly, the Liberia Extractive Industries Transparency Initiative (LEITI) has expressed its confidence to launch a Beneficial Ownership Registry for the extractive sector by the end of 2022.
Anti-money laundering
While Liberia's legal framework on anti-money laundering and terrorist financing seems to be robust, Liberia's porous borders, its cash-based system that uses two currencies (both USD and Liberian Dollars), authorities' weak oversight of financial flows within and across Liberia's borders, poor infrastructure, corruption, political interference as well as major flaws in law enforcement render the country prone to both. A 2019 analysis undertaken by the Financial Action Task Force (FATF) concludes that Liberia is either partially or non-compliant with all six of its core recommendations in the combat against money laundering. Liberia's Central Bank is fiercely criticized for failing to enforce AML requirements and there is a lack of systematic financial investigations and secured financial crimes convictions. The FIU grapples with severe funding constraints, as well as the technical capacity to collect, mine, store and proceed financial intelligence data. It is therefore no wonder that money laundering activities are said to remain prevalent in contemporary Liberia. Until summer 2019, there had not been a single conviction due to money laundering.
The upcoming second mutual evaluation of Liberia's Anti-Money Laundering and Counter Terrorist Financing regime by Inter-Governmental Action Group Against Money Laundering in West Africa (GIABA) in 2022 will flesh out those prevailing flaws in the country's fight against money laundering that require particular attention. The country is currently on the verge of becoming a member of the Egmont group, whose international efforts will help Liberia succeed in anti-money laundering. President Weah's new proposed bill on this issue, which is currently under review, seeks to address flaws in the existing AML Act. 
Asset recovery
Asset recovery plays only a marginal role in Liberia's legal anti-corruption and anti-money laundering framework. A legal framework barely exists and the creation of the Liberia's Asset Investigation, Restitution and Recovery Team (AIRRET) in 2019 is only a small step in the right direction. While the AIRRET's initial investigations looked promising, the Chairman of the institution soon resigned stating a lack of political will to recover assets as the main roadblock to their work. The President's proposed bill contains some promising provisions to improve the asset recovery regime in the country, such as the creation of a Property Manager and the establishment of a Recovered Assets Fund which can be used to compensate victims of criminal conduct.
Key recommendations
In its report, the Center for Security Studies and Development makes several key recommendations for priority actions to be taken to ensure the full implementation of the UNCAC in Liberia, for example:
Establish a specialized anti-corruption court so that the prosecution of corrupt individuals and corporations proceeds smoothly and within a reasonable time.
Expand the mandate of the LACC and the FIU to include prosecutorial powers.
Conduct background checks to assess the qualification of individuals appointed by the Executive to serve as heads of the national anti-graft institutions. Ensure that vacancies within these bodies are filled as quickly as possible.
Occupy existing vacancies as quickly as possible to ensure that the latter can maximize their activities. This is particularly true for the LACC which currently works with only three of the five envisioned Commissioners.
Ensure that anti-graft institutions have the necessary financial and technical clout to execute their duties in an adequate manner.
Organize training workshops for staff members of anti-graft institutions to ensure the latter can rely on decent human capital when delivering on their mandate.
Further increase the coordination among anti-graft institutions.
Tweak and enforce the requirements concerning the declaration of assets by public officials, first and foremost by putting in place a monitoring system that is capable of confirming asset ownership, requiring public officials to provide the actual name in which an asset is held, making asset declarations available for public inspection and enforcing sanctions that bite.
Enact a law that protects Whistleblowers and Witnesses of Acts of Corruption.
Create a beneficial owner registry for companies which contains timely information in open data and is accessible to the public.
Implement a publicly accessible e-procurement system which includes timely information and documents on all stages of the procurement cycle.
Enlighten the broad masses about their rights to request access to public records and the channels to report incidents of corruption they observed or learned about.
Strengthen the role of civil society, private sector actors and media in the combat against corruption.
Enhance Liberia's role in international endeavors to eradicate corruption, money laundering and terrorist financing.
Implement legal and practical measures to enhance the recovery of stolen assets, ideally in collaboration with other countries.
Fullscreen Mode