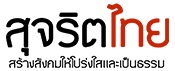 Country: Thailand
Website: www.thaihonesty.org
Focal Point: Phatchanee Pliankoed, Director
Email: email hidden; JavaScript is required
Tel: +66 92 336 6544
Mission and vision
Promote knowledge of honesty and values of honesty to occur in every level of society both in person and in organizational level. Develop tools to create knowledge of honesty. Build up a good network of Sujarit-Thai, both nationally and internationally.
General description of the CSO work in governance and anti-corruption area
Sujarit-Thai's curriculum is based on:
Lessons: to build knowledge and understanding of human behavior at risk of corruption;
Case study: to use a veritable case to the end for study and consideration points; and
Examination: to use assumptions to test the understanding with the solutions to the students in order to apply when facing real problems.
Many universities and governments use this e-leaning method to evaluate students and governors and to cultivate ethics.
Additionally, many leading organizations, such as PTT Public Company Limited and Royal Thai Police are provided with Sujarit Thai specialized corporate training programs to develop the moral level.