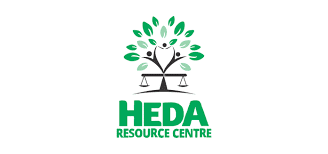 Priority areas your organisation is working on
1. Good governance – including transparency, accountability, anticorruption, law reform
2. Environmental justice and sustainable development – including food security, climate change, farmers' rights, meteorological education, etc
3. Law reform and judicial activism
4. Human rights
Important achievements for your organisation over the past 2 years
1. Publication of seminal researches including 5th edition of a compendium of 100 high profile corruption cases in Nigeria
2. HEDA's transparency and anticorruption campaign including media engagement led to exposure of scandals contained in the Malabu oil deal (OPL 245) and attracted a refund of $73 million to Nigeria from the United Kingdom.
3. HEDA developed the Illicit asset tracing App downloadable via https://play.google.com/store/apps/details?id=com.hedang.assettacing downloaded over 13000 times.
4. HEDA instituted the Anticorruption Situation Room (ACSR), held over 25 session with each attended by over 50 stakeholder groups.
5. HEDA's toll free line: 08004332277 received hundreds of phone calls
Specific description of the CSO's work in anti-corruption
HEDA carries out project involving campaigning, research, advocacy as well as community organising in fighting against corruption.
CSO's work in relation to the UNCAC and the UNCAC review mechanism
1. HEDA successfully sensitized over 30 professional associations in Nigeria on the dangers of IFF and the role of professional codes of conduct in fighting against corruption. This was achieved through the 24th ACSR (details here: https://drive.google.com/drive/folders/1SjGWFZ8kJ1y7yFVRKqSZcr_pdYtOR2QG?usp=sharing ) which was chaired by Professor Shehu Abdullahi, Nigeria's Ambassador to Russia.
2. HEDA and its partners successfully conducted research on 10 Politically Exposed Persons (PEPs) with their 16 suspected or confirmed properties held in the UK, with a combined value of £52,193,123 and effectively reduced it to a petition written through HEDA and Cornerhouse to the EFCC in Nigeria and NCA in London
3. HEDA successfully published four high profile reports during the reporting year with each attracting leading Nigerian agencies and international actors.
4. As a preventive measures to the fight against corruption, HEDA successfully mobilised over 5,000 Nigerians who directly nominated individuals and or voted for shortlisted nominees in the 4th edition of the Gani Fawehinmi Impact and Integrity Awards (GFIIA).
Anti-corruption activities CSO was involved in over the past 2 years
1. HEDA successfully engaged 31 high-level state and non-state actors and carried out an assessment of progress made by Anti-Corruption Agencies (ACAs) in advancing the fight against corruption in 2020 This was achieved through the Day 1 of the Anticorruption Situation Room (ACSR) held on March 10, 2021 with Prof. Sadiq Isa Radda, Executive Secretary of PACAC, delivering the keynote address. The reports and details of the assessment can be found here: https://docs.google.com/document/d/1iq1x-6DCG9EvkhGA3xKWLrz5C6XvoflfV8ZQH143BI0/edit?usp=sharing
2. We were able to shine the spotlight on the Proceeds of Crime Bill bringing together over 40 diverse stakeholders to review it and provide recommendations to the National Assembly. This was also achieved through the Day 2 of the 23rd ACSR which was held on March 11, 2021, in Abuja with Mr Femi Falana, SAN, delivering the keynote address.
3. Our organisation successfully influenced the legislative process as we submitted memorandum to both houses of the National Assembly in April and June of the reporting year on Proceeds of Crime and management of assets recovered.
4. HEDA successfully trained over 90 whistle-blowers and anticorruption actors, many of whom are Nigerians in diaspora based in various countries including Poland, Canada, The Gambia, UAE, the UK and France. The participants were also awarded certificates.