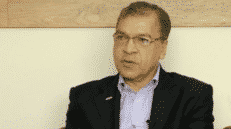 Organisation: Transparency International Bangladesh
Name of Organisation's Representative: Ifthekar Zaman
Website: www.ti-bangladesh.org
Email: email hidden; JavaScript is required
Country: Bangladesh
Which seat are you nominating for? South Asia Regional Seat
Profile of Organisation
Transparency International Bangladesh (TIB), www.ti-bangladesh.org, the largest accredited national chapter of TI conducts a robust programme of national and local level research, advocacy and civic engagement. TIB has established a network of 45 Committees of Concerned Citizens (CCCs) in evenly dispersed locations all over the country. This is a social movement driven by volunteers, mostly young college and university students mobilized as 60 Youth Engagement and Support (YES) groups.
TIB has succeeded in catalyzing significant institutional, legal and policy changes in Bangladesh like the establishment and strengthening of the Anti-Corruption Commission; Bangladesh's accession to the UNCAC and assisting the implementation of commitments made thereby; reform of the Public Service Commission, electoral rules and Election Commission; enactment of the Right to Information Law and Whistleblower Protection Act, adoption of the National Integrity Strategy, government decision to officially observe the international anti-corruption day; etc.
TIB's civic engagement includes application of social accountability tools like Citizens Report Card (CRC), Face the Public (FtP), Open Budget, Advice and Information Desks (AI-Desks), Citizens Charter, Public Hearing, Street Theatres and other cultural tools. By applying these in institutions in social protection, education, health, local government, land and climate finance, these have demonstrated that transformational changes are achievable in public service delivery institutions.
Navigating a not-so conducive political context and limited civil society scope of partnership with Government, TIB has been credibly and effectively engaging with authorities over the years for promoting the cause of anti-corruption in general and UNCAC in particular, especially through policy, legal and institutional transformations consistent with UNCAC provisions.
TIB has also been actively involved in the creation of the UNCAC Civil Society Coalition and its multi-dimensional activities including the review process as well as operation and programming of the Vienna Hub as an active member of the Coalition Coordination Committee.
Organisation's Experience
TIB was associated with the process that led to the creation of the UNCAC Coalition and has since been involved closely in promoting its mandate, both at the international and national levels. Internationally it has participated in several UNCAC and UNCAC-Coalition related events including COSPs, Review Sessions and side-events. TIB represented the Coalition in the Implementation Review Session of 2012 in Vienna and delivered the speech as the Head of Delegation; TIB representative contributed to UNCAC Coalition Newsletter and functioned as the coordinator for South Asia for UNCAC Coalition.
http://uncaccoalition.org/en_US/bangladesh-how-uncac-review-helps-build-bridges-with- government/
At the national level, TIB has persistently pursued a policy of aligning its research, advocacy and civic engagement work with the Coalition mandate by ensuring a special emphasis on building state capacity to implement UNCAC commitments with particular focus on legal, policy and institutional framework, capacity and effectiveness of the state, especially the national integrity system and on strengthening the demand side consistent with Article 13 of UNCAC. TIB conducted the first civil society review of Bangladesh's implementation of UNCAC in 2011. https://www.unodc.org/documents/treaties/UNCAC/COSP/session4/NGO/V1186436e.pdf
Top Three Priorities to Achieve for the Coalition
Alignment of UNCAC Coalition work with newer challenges and opportunities arising from the
fallout of Coronavirus pandemic in terms of UNCAC implementation internationally and
nationally;
Upscaling prioritization of article 13 of the UNCAC to navigate in particular the global trend of
shrinking civil society space consistent with SDG commitment of accountable institutions and
inclusive societies "leaving no one behind"; and
Strategic balance of Coalition's Vienna Hub's international role and functions with Coalition
membership priorities.
Profile of Candidate
Ifthekar Zaman – Executive Director
Iftekhar Zaman, PhD in Economics, is Executive Director of TIB. Before joining TIB in September 2004, he served as Executive Director of Bangladesh Freedom Foundation from 1999, Executive Director of Regional Centre for Strategic Studies, Colombo (1995- 99) and Research Director of Bangladesh Institute of International and Strategic Studies (1982-95).
He was educated in the University of Dhaka, Bangladesh, and Academy of Economics, Warsaw, Poland. He worked as a post-doctoral fellow in the International Relations Department of the University of Tokyo (1988-89).
Dr. Zaman was elected to the International Board of Directors of TI in 2008, re-elected in 2012 and for the third term in 2015 and served until May 2017. He was the first individual from the developing South to be elected in 2002-3 as Chair of the International Committee of the Washington DC-based Council on Foundations.
He has been leading TIB's research, advocacy and civic engagement programme for 15 years and has in the process led TIB's work with UNCAC and UNCAC Coalition. He has written and published widely in and outside Bangladesh.
In recognition of his leadership in promoting transparency and good governance, Dr Zaman was awarded the first Global Partnership Forum for Social Accountability (GPSA) Award in May 2015.
Iftekhar is currently serving the first term of membership of the UNCAC Coalition Coordination Committee. He is a member of the Strategy Task Force 2030 of Transparency International.