24 May 2023 –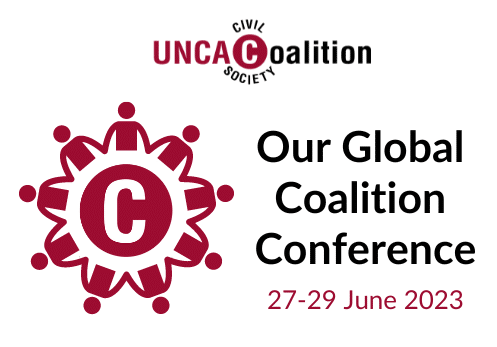 The UNCAC Coalition will hold a virtual civil society conference entitled 'Global Coalition Conference – the Road to CoSP10' on 27-29 June 2023.

The Conference will discuss key anti-corruption topics and coordinate civil society advocacy to contribute to strong outcomes at the 10th Conference of the States Parties (CoSP10) to the UN Convention against Corruption (UNCAC) in Atlanta, Georgia, in the United States in mid-December (find here all available information on the CoSP).
Besides an Opening Session featuring a high-level keynote speaker, and a closing session, the conference consists of civil society expert panels from around the world, and interactive discussion fora on five key anti-corruption issues: 
Whistleblower Protection – Tuesday, 27 June, from 3:30-5:30 pm (CEST)

Political Finance – Wednesday, 28 June, from 2:00-4:00 pm (CEST)

Procurement – Wednesday, 28 June, from 4:30-6:30 pm (CEST)

Beneficial Ownership Transparency – Thursday, 29 June, from 2:00-4:00 pm (CEST) 

Civic space – Thursday, 29 June, from 4:00-6:00 pm (CEST)
When: 27-29 June 2023
Where: Virtual, on Zoom
Who: Civil society representatives (responding to several requests to open it up to beyond our network)
How to attend? Members and affiliate organizations of the UNCAC Coalition have received both the link to the Global Coalition Conference's webpage and password via email. We will be sending them out again. 
If you are not yet part of our network but belong to civil society and are interested in joining our virtual conference, please fill out this Google form to express your interest in joining. 
The Coalition looks forward to the active participation of civil society partners and to jointly advancing these issues at the global level!