---
Please present yourself

My name is Shehab Al-Burahi, and I'm a civil society activist and trainer in the field of good governance, peace-building, public policies and climate action. I have worked in many local and international organizations, in managing and coordinating community development projects.
My experience in the field of anti-corruption focuses on training and supporting the efforts of youth and civil society organizations, in addition to advocating for issues that seek to enhance transparency in public institutions. I work on managing community accountability projects and preparing public policy papers, including collecting information, analyzing data, preparing reports and discussing them with decision makers in relevant institutions and stakeholders. I started working for Improve Your Society Organization (IYSO) in 2019, and currently work as a program manager, which includes managing the Community Accountability Forum and teams of youth monitors.
What motivates you/inspires you to work in anti-corruption?
My interest in working in anti-corruption came as a result of the current conditions in Yemen, which led to an increase in the spread of corruption in public institutions that provide services to citizens. This was motivation for me to work in the field in order to improve services and reduce corruption in public institutions, and this work gave me confidence. I have now devoted my time to support efforts aimed at anti-corruption.
What is an anti-corruption achievement you are proud of?
When I talk about achievements, I must refer to the organization's work team because all achievements are a source of pride for everyone as a team. There are many achievements, especially in light of the local context at risk as a result of the conflict in Yemen. I am proud that we at IYSO have contributed to enhancing a culture of accountability in the country and we are creating active paths for anti-corruption efforts.
We are also proud of the achievements that had an impact on local authorities to respond to our recommendations in issuing decisions to change directors in public institutions such as the water and cleaning of Taiz city. This was good for us because we were able to reflect our work in finding solutions and remedies for public institutions that suffer from corruption and deteriorating services. We are also proud that IYSO has a team of youth working in the field of social accountability.
What have you learned from your organization's work in anti-corruption that could be useful to others?
l learned and am still learning from IYSO. First, I learned to insist, face challenges, and think positively when dealing with decisions related to work in anti-corruption and to spread a culture of social accountability in support of the efforts of CSOs. All of this has been fulfilling for me, and therefore I too benefit others, especially when the goal is common and in the interest of community.
What are your organization's main goals?
The three most crucial objectives for IYSO are:
Contribute to peacebuilding efforts and promote conflict resolution in various contexts. We work towards fostering IYSO dialogue, reconciliation, and understanding among different stakeholders to mitigate conflicts and build sustainable peace.
Empowering youth and civil society actors by providing them with the tools, knowledge, and opportunities they need to actively participate in peace-building, combating corruption and decision-making processes. IYSO believes in the power of youth and civil society to drive positive change and contribute to sustainable development in their communities.
Combating corruption and promoting transparency in governance practices. We strive to strengthen accountability mechanisms, enhance integrity, and promote good governance at all levels, aiming to create a more transparent and accountable society.
How does your organization operate?
IYSO operates with executive leadership, which provides the strategic direction and overseas operations. IYSO has a clear vision and goal and organizational structure that clarifies tasks and responsibilities. The organization works to involve stakeholders in its various projects in the stages of identifying needs, planning, implementation and evaluation, learning and lessons learned to ensures accountability to stakeholders, and facilitates learning.
IYSO establishes partnerships with NGOs, academic institutions, government entities, international organizations, and grassroots organizations provide additional resources, expertise, and networks.
Beneficiaries include youth, civil society actors, marginalized populations, conflict-affected communities, and individuals affected by corruption. IYSO relies on donors to fund its projects, especially those focused on peacebuilding, women and youth empowerment, and good governance. Collaboration, coordination, and expertise across these divisions and stakeholders contribute to the success of IYSO in achieving its mission and objectives.
What are the biggest successes your organization has accomplished in the field of anti-corruption in the past years?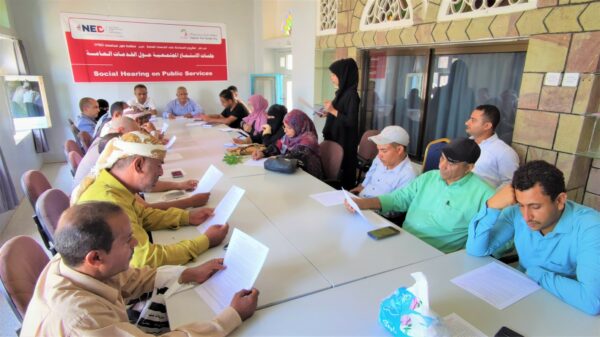 Advocacy campaigns and influencing the local governmental authorities to make a change in the departments of the public institutions in the water and sanitation institutions by issuing decisions to appoint more transparent managers.
Reducing corrupt practices in three public institutions, which was reflected in an improvement in the level of services and in the level of transparency.
Motivate civil society organizations to engage in activities that focus on combating corruption and improving public services in the midst of conflict.
Graduating four batches of young activists in civil society to work in the fight against corruption.
Launching the Public Policy Forum and the Social Accountability Forum as specific initiatives in the city of Taiz that focus on combating corruption and producing public policy papers to address corruption issues in Taiz city.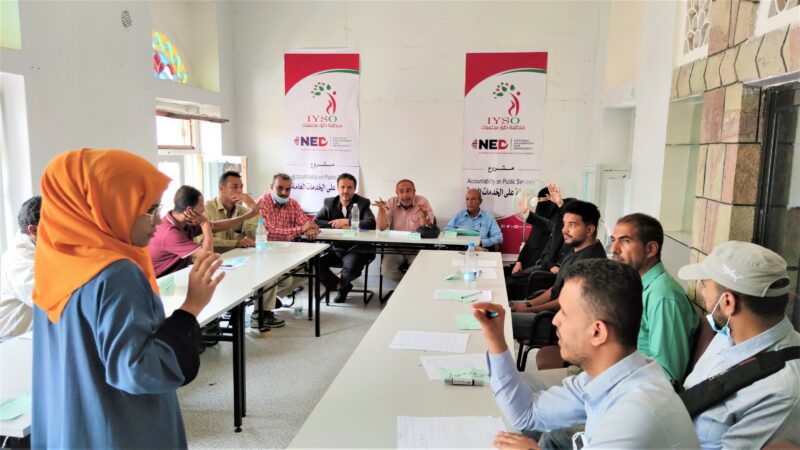 What are the key challenges specific to your local context that your organization has been facing?
In our local context, our organization has faced several key challenges:
Ongoing war: The continuation of the war has posed significant challenges to our anti-corruption efforts. The conflict has diverted attention and resources away from addressing corruption, making it more difficult to implement effective measures and reforms.
Weak role of security services: The limited capacity and effectiveness of security services have hindered our work. Insufficient enforcement of laws and inadequate protection for anti-corruption activists have created an environment that allows corrupt practices to persist.
Lack of funding opportunities: There is a scarcity of funding opportunities specifically dedicated to programs that focus on combating corruption and promoting a culture of accountability in society. This lack of financial support has limited the scope and impact of our initiatives.
Repression and threats: Anti-corruption activists and individuals associated with our organization have faced repression, threats, and intimidation. This hostile environment affects our ability to operate freely and puts the safety and well-being of our team members at risk.
Complex sociopolitical dynamics: The complex sociopolitical dynamics within our local context present significant challenges. Deep-rooted corruption networks, power struggles, and lack of political will to address corruption pose obstacles to our efforts in promoting accountability and transparency.
What can other organizations learn from you?
IYSO's work has contributed to strengthening and motivating both youth and civil society organizations to work in the accountability and anti-corruption sector in Yemen.
In addition to enhancing citizen participation and involvement in accountability for public services, it also strengthened the role of IYSO in civil society and expanded the base of its activities in support of the democratic process in Yemen, in addition to strengthening the role of young leaders in civic participation and reaching decision-makers by adopting policies and mechanisms aimed at advocating for democratic activities and promoting good governance in public service institutions. The Social Accountability Forum came to serve as a platform for building youth capacities in the field of accountability, raising community awareness of the concepts of social accountability, and exercising oversight and accountability roles over public services and the general performance of the local authority in the governorate.
To what extent has your organization been involved in the UNCAC Review Mechanism?
IYSO works on raising awareness about the implementation of the UNCAC and encourages transparency and accountability by demanding higher standards of public disclosure.
Moreover, IYSO mobilizes civil society and action for UNCAC, building the capacity of CSOs to help them improve their knowledge of the Convention, take measures to combat corruption and provide recommendations to improve transparency and awareness about the UNCAC.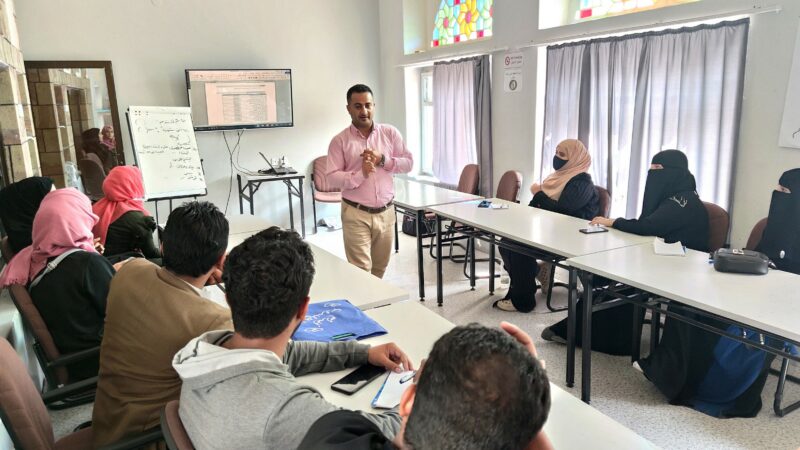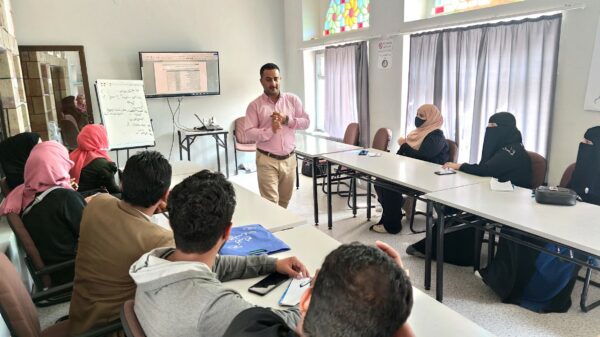 Why is it important for you to be part of the UNCAC Coalition?
The UNCAC Coalition gave IYSO motivation to move forward in dedicating its efforts to work in the field of good governance and anti-corruption. IYSO has benefited from an enormous amount of information that is considered to be important material and references for the development of IYSO 's work.
It is true that IYSO is still an emerging organization and operates in an environment full of risks as a result of the conflict in Yemen, but IYSO's accession to the UNCAC Coalition opened space for it to benefit from resources and exchange expertise and experiences with institutions from different countries of the world – this in itself is considered a strength for IYSO to enhance its role as a civil society organization.