7 December 2021 –
The UNCAC Coalition's fourth regional meeting of the Asia-Pacific group took place on 19th November 2021 featuring discussions on Social Accountability to fight corruption. The meeting gathered 14 participants including representatives from all over the region, Asia-Pacific members of the Coalition Coordination Committee (CCC), and colleagues from the Coalition's Vienna Hub. Speakers from the member CSOs in Bangladesh, Indonesia, and Bhutan delivered presentations on civil society actions related to social accountability followed by a lively discussion with an exchange of information, queries, ideas, and activities. In addition, the meeting included short briefings about the upcoming UNCAC COSP 9 and the Summit for Democracy to be held in December 2021.
The Regional Coordinator for Asia-Pacific, Fatema Afroz noted the importance of social accountability approaches and set the scene for presentations and discussion on the main agenda item of the meeting.
Civic Participation and Social Accountability: TI Bangladesh's Fight against Corruption
Dr. Iftekhar Zaman, the Executive Director of Transparency International Bangladesh, made his presentation titled 'Civic Participation and Social Accountability: TI Bangladesh's Fight against Corruption'. He considered four strategic thrust areas of TIB's work and mentioned that they were the first TI chapter to introduce a social accountability program. He added the result indicators of their work mentioning improvements in public services in the education, food, and health sectors among others. Throughout the work, it was learned that civic participation for social accountability is a continuous process that requires engagement strategies. In this regard, people's voluntary involvement, specifically youth engagement, is the key. However, sustainability depends on the continued commitment of all stakeholders, and political will, as well as administrative support, are crucial. Visible and measurable success is possible, provided that adequate resources and capacities are in place.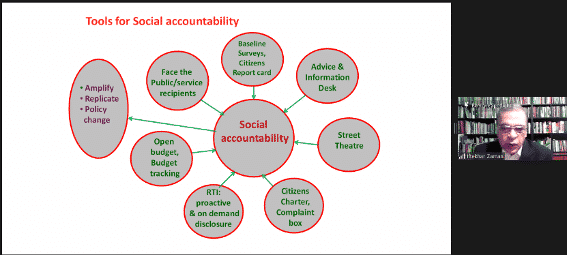 The presentation was followed by an interactive Q&A session where questions were raised on how far social accountability initiatives faced any resistance from the service providers, especially from the public officials. However, to mitigate the emergent challenges from the local levels, local leaders served as gatekeepers that provided an opportunity for a more positive approach. Another question was asked on whether bottom-up engagements are trickling upwards, leading to an accountable government. It was emphasized that the bottom-up approaches helped to strategize towards a more legitimate program for both the local and the national authorities that worked well for Bangladesh and also was followed by many other TI chapters.
Indonesia's Experience of Social Accountability to Fight Corruption in Natural Resources Management
Laode M. Syarif the Executive Director of the Partnership for Governance Reform (Kemitraan bagi Pembaruan Tata Pemerintahan), Indonesia, focused his presentation on social accountability and corruption with their experiences in fighting corruption in the natural, mineral, and forest resources. Mr. Syarif presented research findings on corruption in mining including bribery and illegal activities, lack of proper reporting, missing licenses, and the social costs of corruption. He also informed about Kemitraan's strong and assertive attempts to prevent corruption. However, demanding social accountability from the government and private sector is instrumental while shrinking civic space, persecution of activists, digital attacks on individuals, and also difficulties in organizing demonstrations due to Covid-19 have all contributed to the weakening system.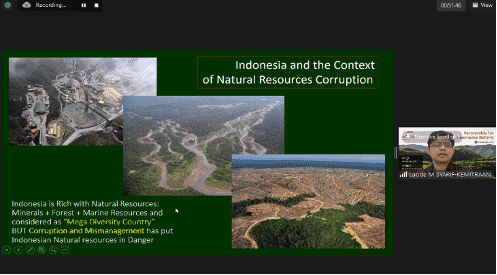 Social Accountability to Fight against Corruption: Experiences from Bhutan
Kinley Drukpa from Bhutan Transparency Initiatives, presented approaches to social accountability to fight corruption in Bhutan. The organization is implementing various collaborative initiatives including campaigns, capacity building of the community representatives as well as the service providers, periodic assessment of services, and developmental plans. There are plans to roll out social accountability in all the local government institutions at a larger scale and more intensively. In the context of the Coalition's Asia-Pacific regional meetings, this was already the second presentation delivered by Bhutan Transparency Initiatives, a fairly new Coalition member, providing an important perspective on corruption risks, as well as opportunities to tackle it, in smaller communities.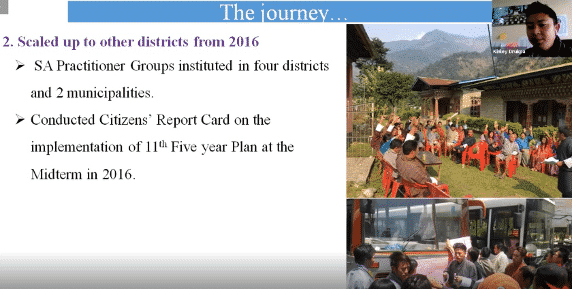 Summit for Democracy, December 2021
Mathias Huter, the managing Director of UNCAC Coalition, briefed the participants about the upcoming Summit for Democracy to be hosted by the US Government on 9-10 December 2021. There will be a total of 17 official events and panels while a few other side events are being organized by civil society. This is an attempt to develop reforms in the context of the 3 pillars of the summit: promoting respect for human rights, defending against authoritarianism, and addressing and fighting corruption. However, there are some concerns regarding the inclusiveness of the process. There will also be a follow-up summit planned for December 2022, preceded by a 'year of action' where countries will report on the progress they have made. The CSOs of the participant countries can share their input for commitments, and encourage a national consultation on priorities and the follow-up regarding the implementation of commitments.
UNCAC CoSP 9: Final Preparations and Advocacy Messages
Yonatan Yakir, from Vienna Hub of UNCAC Coalition, made a brief presentation on the final preparations for the 9th session of the UNCAC Conference of States Parties (CoSP9) scheduled in Sharm El Sheikh, Egypt, between 12-17 December 2021. The briefing discussed the status of civil society participation, organizational and logistic matters, and the civil society preparatory meeting that will be held before the CoSP.  He asserted that the UNCAC Coalition has set its advocacy priorities for the Conference, which include, among others, defending civic space, beneficial ownership transparency, strengthening the UNCAC review mechanism, discussing regional priorities, including in the Asia-Pacific, and thematic areas of the Coalition's working groups. The civil society-organized CoSP side events will mostly be held on Thursday and Friday 16-17 December. Some events will be broadcast online as well.
The Participants also shared relevant information, facts, ideas, and experiences,  including comparisons to COP26 that just ended in Glasgow. There were queries and ideas whether an online platform for civil society can be created for CoSP9 to attract more attention. The meeting concluded with an invitation to continue with sharing information and ideas among the CSOs and individuals across the region.
If you are a civil society activist from the Asia-Pacific region and would like to become involved in the work of the UNCAC Coalition, please contact our Regional Coordinator Fatema Afroz at

 

email hidden; JavaScript is required

.