10 February 2020
– Summary of key points raised at the event 
Making transparency work: technology-driven approaches to facilitate public access to information
UNCAC CoSP8 Special Event
Friday, 20 December 2019, 09.00-10.00
Organised by: UNCAC Coalition, Article 19, Ministry of Justice of the Slovak Republic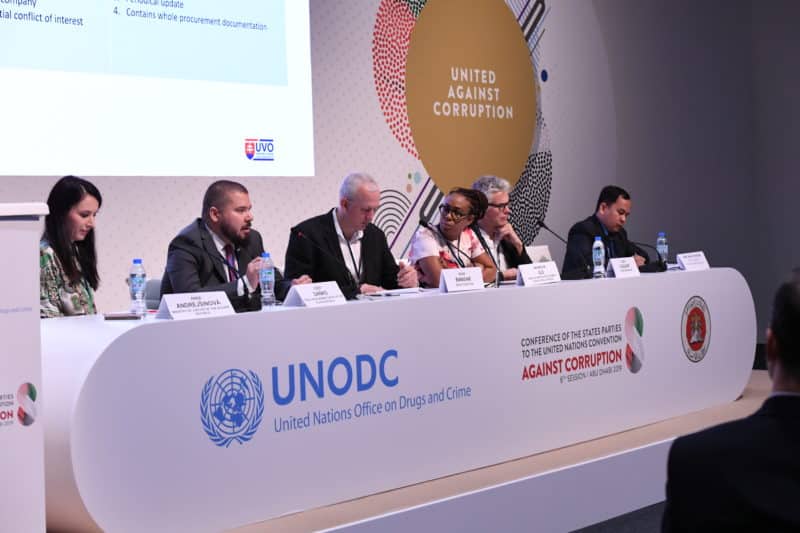 Moderator:
David Banisar, Chair of the UNCAC Coalition and Senior Legal Counsel for Article 19
Speakers:
Anna Andrejšinová (Director of Legislation Division of Civil and Commercial Law, Ministry of Justice of the Slovak Republic): "Mandatory contract disclosure in Slovakia"
Jozef Daňko (Head of the Supervision Division, Public Procurement Office of the Slovak Republic): "Transparency in public procurement in Slovakia"
Nkemdilim Ilo (CEO of the Public & Private Development Centre (PPDC), Nigeria): "Experiences in piloting the open contracting data standard and monitoring public procurement in Nigeria"
Chris Taggart (CEO and Co-founder of OpenCorporates): "OpenCorporates' efforts to make the world's company data open for all"
Adhi Setyo Tamtomo (Cooperation Specialist, Directorate of Fostering Networks Between Commissions and Institutions, Corruption Eradication Commission (KPK), Indonesia): "Indonesia's Experiences in Facilitating Public Access to Information"
Michal Kotlárik (Director General of the International Law Department of the Ministry of Justice of the Slovak Republic) was also present to respond to questions
Anna Andrejšinová: Mandatory contract disclosure in Slovakia
Contract Register of the Slovak Republic

The Slovak Republic's new central online register of contracts was launched on 1 January 2011, aiming at more transparent and effective management of public money
The register is maintained by the Government Office of the Slovak Republic and is available to the public online and free of charge
The main principle of the new legislation: every public contract only comes into effect when it is published online in the register of contracts. Moreover, entities doing business with the public sector also have to list their beneficial owners in a dedicated register.
Since 2017, this regulation also applies to foreign companies doing business with the Slovak Republic

Legislation

Legal definition of a mandatory published contract: contract, written form, contractual party (first group [state, municipalities, public institution, regional or local authorities, other bodies governed by public law – full regime of disclosure] or second group [companies owned 100% by state, municipalities, public institutions, regional or local authorities or by other bodies governed by public law – special regime of restricted disclosure],
subject matter of the contract (transfer of assets, not limited to public procurement contracts, no financial threshold)
The authorised person who checks the submitted beneficial ownership data can be a notary, attorney of law, bank or branch of a foreign brand

Publication of the Contract

Contracting party has 3 months to publish the contract in the register
By law, the contracts take effect the day after being published in the register
Generally, all documents, including technical specificities, annexes, beneficial ownership data of the companies involved etc. need to be published (freely accessible)

Legal consequences of non-compliance

Treated as if the contract has never been concluded
Performance of non-contract is seen as an unjustified enrichment, all supplies received must be returned
If this is not possible, monetary compensation must be provided

Impact: step in the right direction

More than 2 million contracts have already been published
Significant increase in transparency
Public money saved, daily control by the public, termination of many disadvantageous contracts
Find out more:
Jozef Daňko: Transparency in public procurement in Slovakia
Characteristics of the register in Slovakia:

Accessibility: free of charge
Availability: online 24/7
Functionality: ability to update information all the time
Structure of data: data has to be available in structured formats (machine-readable)

Electronic business register and profile of contracting authority

Available to the public, free of charge, periodical update
Business register shows the whole history of a company, ability to identify potential conflicts of interests
Electronic profile of contracting authority contains the whole procurement documentation

Digitalisation and transparency

The Slovak Information System of Electronic Public Procurement (EVO) is a better system than the current EU standard:

it provides all public procurement procedures
it supports full integration with other data collections (CA and IS)
it has an eID authentication
it converts previous 'paper tenders' into computer files
it is a tool for recording all activities in the system

Key figures:

SME share 94.3% – great example that companies are transparent in Slovakia
Average number of bidders: 3.6 bids/tender (2.7 in 2012)
Rough indication on how many people look at registries online: website had 54 million views in 2018, number would be even higher if considering all the other websites/organisations that use the Slovak data
Nkemdilim Ilo: Experiences in piloting the open contracting data standard and monitoring public procurement in Nigeria
The Public and Private Development Centre (PPDC)

the PPDC is a civil society organisation whose major objective is to make public procurement as transparent and corruption-free as possible
PPDC has created a dedicated Open Contracting web platform (called Budeshi), which links budget and procurement data to various public services. This platform is accessible to the public and gives citizens the opportunity to interrogate and monitor contract execution within their communities
Although there also exists a governmental portal for public disclosure in Nigeria, the civil society portal is the most used one

Chain of Procurement Monitoring Activities

Data Gathering – Freedom of Information (FOI) Request: PPDC sends this FOI request to public institutions asking for: records of payments of capital projects released in the previous year, list of contracts awarded by the institution, procurement plans for the current year
Handling the Data – Budeshi Data Entry: PPDC uploads the obtained data on the dedicated web platform "Budeshi"

the data is displayed for everyone to see, and one can look at the status of the respective contract and how much money has been paid
PPDC also ranks public and security institutions based on their compliance with the FOI Act 2011

Project Monitoring: using the data provided on Budeshi, the procurement monitors visit various project sites to verify the conformance with the provided information, comparison of contract details and monitors' reports
Community engagement and feedback mechanisms: PPDC sends reports to relevant agencies, provides training about open data to public institutions, engages citizens through TV and radio programmes, production of documentaries, and engaging with citizens through townhall meeting
Questions from Audience:
What if the government is controlling the private sector, how can one deal with this as an African nation?
It is a complicated process since companies are often affiliated to officeholders and contractors have been picked by lobbyists. In order to get around that, one needs to get information and data about the companies and the work they do. Therefore, one needs to work with parts of the ministries to make them aware that citizens and civil society actors are looking into their personal activities.
Chris Taggart: OpenCorporates' efforts to make the world's company data open for all
OpenCorporates

Open Corporates is the "company registry for the world": it is the largest open database of companies (over 180 million companies and over 220 million officerships) open for everyone
Characteristics: public official, legal entity data (all data comes from primary public sources), data at scale, open identifiers (OpenCorporates provides open [non-proprietary] identifiers), full provenance, direct from source (no third party data providers), tech-driven
The Challenge

In our global corporate world, clear, trusted, open, legal entity data is an essential requirement for good business and a fair society
Within 5 years, we need real-time data from all registers and businesses, only then we can have a trustworthy functional system

The Approach

automatically collecting company data from hundreds of official sources – Open Corporates standardises it and makes the data available in a consistent form

The Product

all data freely available, openly on the web or via API and bulk for use at scale
Questions from Audience:
Are there incidents where the data from your website is abused, and thus, should access to this information be restricted for some actors?
Chris Taggart: There is no good reason to restrict access to company information for some actors. A lack of access to data only leads to non-transparency and to a lack of information.
How to convince companies to reveal their data?
Those who are doing the searchers are mostly companies. Each time they do this, they save work. Thus, the open company registry turns into a great reduction of costs for companies and for the business environment as a whole. They all benefit from creating a more trusted and transparent business environment.
Additional comment by Chris Taggart:
How to de-corrupt a corrupt state system is a very difficult issue. External actors have now become more involved and local communities on the ground to show what is actually happening, but these actors are also sometimes limited. I think the private sector has an important role to play and that we need to get the private sector on board. The private sector also has a lot to gain from transparent information about their business partners, from the effective rule of law. Thus, we, as civil society, need to engage with the private sector and show them how they could benefit from more transparency. We need to create a hostile environment, especially around government public procurement, so that criminals feel like it is not worth to work in this field.
Adhi Setyo Tamtomo: Indonesia's experiences in facilitating public access to information through the public official's wealth report
The Corruption Eradication Commission (KPK)

The KPK is Indonesia's main anti-corruption body. Its areas of work are divided into: prevention, enforcement, information and data, internal affairs and public complaints, and the secretary general.
In this regard, the KPK is the oversight body of asset disclosure and responsible for the registration and examination of public officials' wealth report.

Legal Enforcement

Article 5 of Law 28/1999 obliges all state officials to declare their wealth.
Not doing so leads to administrative functions and would prevent public officials from being promoted into higher positions.
Compliance with regulation: percentage of public officials complying is rising (from 70% in 2014 to 90.77% in 2019)

Reporting System

Declarations must be submitted annually as well as when coming into and leaving office.
Since 2016, the reports are mostly managed via an electronic declaration system.
There, public officials submit their full report, which is then reviewed and verified by the KPK.
After a full review, a summary of the declaration is publicly available online.

Impact

The wealth reporting through the online system helps to: build an atmosphere of accountability and transparency, identify potential conflicts of interests, detect early illicit enrichment, build public officials with high integrity standards, gain public trust

The website has been visited by more than 360,000 people (in 2019)
The wealth reports have been used by the Supreme Court and organisations to hold the government accountable
Concluding Remarks by David Banisar
Data is part of the solution, we all need to work together, including civil society actors, government – all of us – to use the data to create change
We need to make sure that people get the services they need, that good companies are supported and that bad ones are reduced in their ability to operate