21 June 2021 –
The UNCAC Coalition hosted on June 17th the first meeting of CSO members of the MENA region. This meeting inaugurated a new era of cooperation for greater impact and a better pooling of knowledge and capacities between members and affiliated groups of the region and between the CSOs and the Vienna Hub. Mathias Huter, Managing Director of the Coalition, and Hilda Ajeilat,  MENA representative on the Coalition's Coordination Committee launched the meeting, which was attended by representatives of the following CSOs: Bahrain Transparency Society, I WATCH (Tunisia), Jordan Transparency Center, Al-Nahrain Foundation for Supporting Transparency and Integrity (NFTI, Iraq), Kuwait Transparency Society, and Studies & Economic Media Center (SEMC, Yemen).
Mr. Huter discussed the current international context in the fight against corruption and in particular, highlighted the results of the last meeting of the United Nations General Assembly Special Session against Corruption (the UNGASS). He also invited the MENA CSOs to begin preparing for the next session of the UNCAC Conference of States Parties (the 9th UNCAC CoSP) that will be held 13-17 December in Sharm El Sheikh in Egypt. UNODC has sent out to NGOs a call for applications to attend the upcoming CoSP,  which will also be disseminated to the CSOs in the region.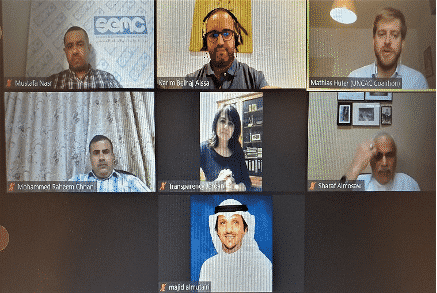 Ms. Ajeilat spoke about the importance of pooling the capacities of members in the region in order to tackle corruption more effectively, especially in times of the health crisis and the lack of transparency characterizing the management of public funds in several countries of the region.
This first meeting was an opportunity for all participants to present their latest activities in their respective countries, including by the newest MENA member of the Coalition, Kuwait Transparency Society. Participants also discussed proposals for more effective and coordinated work in the fight against corruption and ways to use the CSOs mutual capacities for this matter. The participants agreed to establish a tradition of periodic regional thematic meetings as part of a general action plan. These regional meetings will focus on specific corruption-related issues relevant to the work and the challenges CSOs face in their countries and will include the sharing of knowledge, expertise, and experiences by members, as well as by other leading experts when appropriate. Some specific ideas that were suggested for discussion in future meetings included the right to information, public expenditure in times of COVID, and ways to advance social accountability, including social auditing.
The next meeting of the MENA group is set to take place in September.
If you are a non-governmental anti-corruption activist or you represent a CSO from the Middle East and North Africa Region and would like to get involved in the work of the UNCAC Coalition, please contact our Regional Coordinator Karim Belhaj Aissa at: email hidden; JavaScript is required.