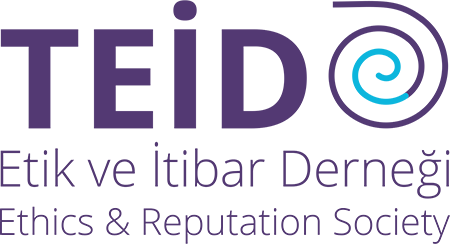 Country: Turkey
Website: www.teid.org.tr
Social Media: Twitter, Facebook, LinkedIn, Youtube
Focal Point: Bahar Karacar, Project and Training Coordinator
Email: email hidden; JavaScript is required"}" data-sheets-userformat="{"2":14786,"4":[null,2,16043212],"9":1,"10":1,"11":4,"14":[null,2,0],"15":"Calibri","16":11}">email hidden; JavaScript is required
Tel: +90 (0216) 580 90 34 – 36
Mission and vision
With a vision of becoming an internationally and nationally reputable centre of excellence, and providing value for the business world, our mission is to support capacity development through combining the best practices of compliance officers and the international ethical values and standards as well as raising awareness in the field through to be established communications channels, thus adding value to the business world.
General description of the CSO work in the anti-corruption area
TEİD's activities are based on four pillars:
Data Collection: To collect coherent data on corruption and integrity through regular surveys in the private sector.
Education, Trainings and Professional Certification: To produce and deliver courses and online training modules and run "Compliance Officers' Certification Programs" for the education and certification of relevant private sector professionals and producing tools for the use of compliance officers.
Communications and Publications: To create stakeholder engagement, increase awareness, strategize and execute the communications plan and do event management for higher visibility and effective communications.
Advocacy: To facilitate collective actions, to create a point of leverage on the regulators, to affect regulatory change in combatting corruption and effective management of integrity risks, to enhance the commitment of the private sector with a strong advocacy program and to become a point of reference for business ethics and compliance related matters in national and international scope.
Specific description of the CSO work in relation to the UNCAC
With the perspective of combating corruption and in accordance with the four main pillars listed above, TEİD established the "Ethics and Compliance Manager Certification" Program which has recently more than 40 graduates (TEID Akademi – INscuola).
TEID organizes every year, the International Ethics Summit where there are various parallel sessions and a panel about compliance, ethics and combating corruption.
Moreover, TEID has two working groups, "Internal Investigations" and "Regulation Development" which are working actively to improve the anti-corruption measures in Turkey that are in compliance with the global regulations.
TEİD publishes every 3 months the first and only magazine in Turkey on business ethics, compliance and combating corruption, INmagazine.
Ethics and Compliance books collection, INbook, an online library INexlibris, a collective action hub, INaction, a compliance professionals' platform where there are discussions and meetings on the related subjects, INplatform, a collection of ethics and compliance handbooks, INguides are between our UNCAC related works.
In addition, we transferred the Global Compact Dilemma game to an online platform. Our objective is to create a system such as LinkedIn, for the compliance professionals.