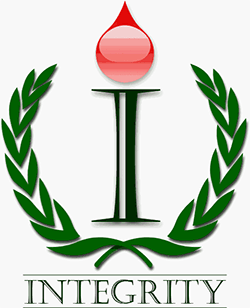 Country: Nigeria
Website: www.integritynigeria.org
Social media: Twitter, YouTube, LinkedIn
Focal Point: Toyin Nwiido
Email: email hidden; JavaScript is required
Tel: 08055249358
Mission and vision
The Integrity Organization's Vision and Mission is through visionary leadership, creativity, and effective implementation of our ideas to empower people, their transactions, systems and institutions against corruption, with the ultimate vision being "A society with zero tolerance for corruption."
General description of the CSO work in the anti-corruption area
Integrity is an anti-corruption, research and advocacy organization concerned with issues of accountability and transparency in public and business life. It was founded in 1995 during the Abacha regime as a direct reaction to the corruption and poor governance of Nigeria represented by that era. The Convention on Business Integrity (CBi) the private sector facing arm of the Organization was founded in October 1997 and later incorporated as a separate Company Limited by Guarantee (in sensitivity to the aversion of business to be overtly connected to anything remotely radical, it became a business membership organization whose agenda they could have a say in). CBi was established to promote ethical practices, transparency and fair competition in business.
The Organization formed a collaboration with anti-corruption agencies in the country to help improve their systems and processes. Through the use of baseline research and introduction of transparency and accountability models – The Independent Public Feedback Mechanism – itell4u) as a tool for accepting complaints from citizens on cases of administrative injustice and giving timely feedback on the status of the complaints with the Public Complaints Commission and improvement to the content and format of its 2009 Annual Report; Time to Wake Up anti-corruption campaign; Consultation with the Nigerian Inter-Agency Task Team to draw up a set of anti-corruption initiatives for Nigeria. We have also demonstrated expertise in political economy analysis/studies for a number of donor funded programmes at Federal and State levels in Nigeria.
Integrity is currently implementing an EU funded "Support to Anti-Corruption in Nigeria" project. The project aims to reduce corruption in service delivery by documenting/publicizing instances of corruption monitored in public service delivery sectors through the sustained mass exercise of the watchdog initiative by citizens and CSOs. This involves tracking corruption schemes in 12 public universities; analyzing & publishing the effects of these schemes on service delivery; mapping areas of vulnerability; and contrasting them with possible antidotes. These activities should generate a corruption risk assessment (via the use of a Web App) for the target universities, increase citizen's consciousness, enabling them to take up informed advocacy to name and shame or name and praise. This in turn will pressure on some universities to implement antidotes/Integrity plans to close the systemic gaps in their operations and thus reduce corruption in service delivery.
Specific description of the CSO work in relation to the UNCAC
The Convention on Business Integrity (CBi), the private sector arm of Integrity Organization used itself as a case study and highlighted to CSOs ways they can engage with private sector in fighting corruption using the UNCAC provisions in Articles 12, 21 and 22 of Chapter II. In addition, CBi worked in collaboration with Zero Coalition Corruption (ZCC) to develop a report on the review of private sector provisions in UNCAC. Please see report here. The observations, gaps and recommendations on Articles 15-22 and 39 were also documented. For example, a major gap identified concerns "Article 39: Cooperation Between National Authorities and the Private Sector." The law provides for the Economic & Financial Crimes Commission and the Nigeria Financial Intelligence Unit to demand and expect to receive necessary information from the private sector in support of their investigations. This is not the same as having arrangements in place to ensure "cooperation" between the authorities and the private sector. Cooperation such as through meetings with the Bankers Committee and Committee of Compliance Officers of Banks and other such structures are informal and not by legal requirement.
Specific description of the CSO work in relation to the review mechanism of the UNCAC
Integrity is currently sharing experience on how the review process works and making suggestions on how CSOs can engage with both Nigerian review team as well as the reviewers during the review process for this 2nd cycle.
If you or someone from your organization has participated in a workshop on UNCAC and its review mechanism organized by UNODC/ UNCAC Coalition, please indicate who, when and where
Oladoyin Olawaiye, Multi-stakeholder workshop to strengthen civil society capacity on the UNCAC, 20-23 September 2016, Vienna, Austria