---
Please present yourself
My name is Mohammed Raheem Al-Rubie, a lawyer and I worked in the field of integrity support since 2009. I founded my organisation in 2016 and currently the head of the Al-Nahrain Foundation for Transparency and Integrity.
What are your organisation's main goals?
The three main strategic goals we aim to achieve are:
Integrity Support Systems – monitoring, assessing and pursuing accountability and transparency enhancement.
Authoritative Voice – the voice and action of CSOs in preventing corruption and raising awareness and expanding civic participation.
Emphasizing Iraq's commitment to the UN Convention against Corruption ratified in 2007 by introducing the Convention and carrying out mobilization and advocacy campaigns to emphasize the importance of implementing and adhering to the provisions of the Convention because of their essential role in supporting integrity, combating corruption and improving the level of services provided to society.
How does your organisation operate?
Al-Nahrain Foundation for Supporting Transparency and Integrity consists of a constituent body comprising three founding members, The board of directors consists of seven people and a general body comprising eighteen members of both sexes, from different age groups and various academic backgrounds, including law, media, oil economy, petroleum engineering, computer science, accounting and financial control.
Participating stakeholders in NFTI include the Federal Integrity Commission, Civil society organizations, Private sector companies, Universities, Journalists and Activists.

What are the biggest successes your organisation has accomplished in the field of anti-corruption in the past years?
Al-Nahrain Foundation for Transparency and Integrity worked with the United Nations Development Program, the Arab Network for Promoting Integrity and Anti-Corruption and the Federal Integrity Commission to implement the 'Universities Against Corruption Regional Initiative in Iraq' in government universities in Baghdad, Al-Iraqiya, Al-Nahrain, Karbala, Tikrit and Al-Mustansiriya. Training was also conducted for 300 male and female students to write a case study that includes a corruption issue that they have been exposed to, or which is prevalent in their local community and addressed by one of the articles of the UN Convention if applied correctly.
We worked with the Arab Network to Promote Integrity and Combat Corruption to establish the Iraqi Alliance to Support Integrity in the health sector since 2018. The coalition, which consists 24 civil society organizations from different parts of Iraq and academics from the medical group colleges, worked to monitor case studies of corruption in the health sector and identify mechanisms to address it.
NFTI implemented the 'Enhancing Financial Transparency in the Health Sector' program in 4 Iraqi governorates, targeting five health departments, in order to disclose the amounts allocated to Covid-19 in these departments and publish them on our website. This encouraged the Federal Integrity Commission to sign a Memorandum of Understanding with Al-Nahrain Foundation for two years, ending in September 2023, to implement the program 'Promoting financial transparency, protecting public money, and implementing electronic governance' in state institutions.
Al-Nahrain Foundation, in its capacity as a representative of Iraqi civil society, contributed to the Extractive Industries Transparency Initiative in Iraq to address a set of observations that caused the suspension of Iraq's membership in the International Extractive Industries Initiative. We educated civil society organizations and the private sector on the importance of the EITI and its role in enhancing transparency and the importance of community participation, and shared its reports by holding workshops in a group of oil-producing governorates.
In 2021, the Al-Nahrain Foundation established the Al-Nahrain Network to Support Integrity and Transparency, which includes a large group of civil society organizations, media professionals and businessmen from all over Iraq, specialized in working on the implementation of the National Anti-Corruption Strategy 2021-2024 and following up on its implementation by the public sector. A cooperation agreement was signed by the Federal Integrity Commission and NFTI to contribute to the implementation of the national strategy and to develop the role of civil society and the media in issues of integrity and accountability support.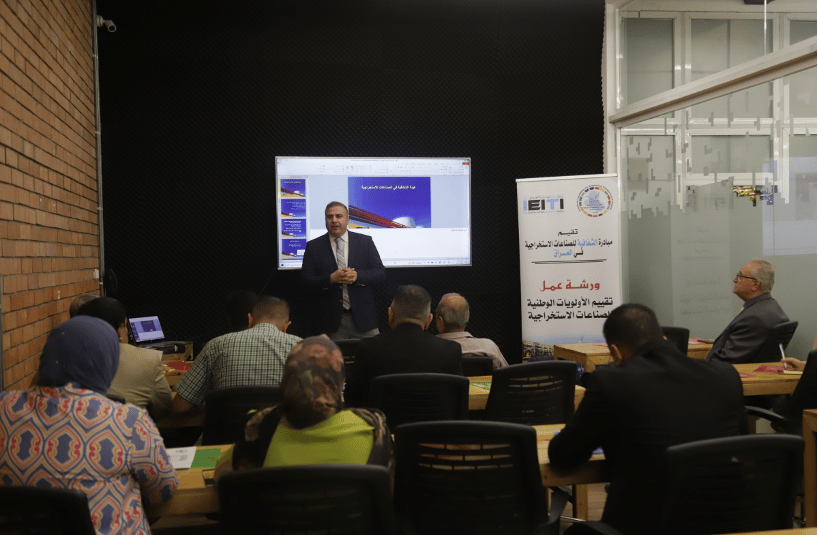 What are the key challenges specific to your local context that your organisation has been facing?
Another challenge is the complacency of the general population as well as businesses and NGOs about the risks of corruption and the impact that it has. This makes us vulnerable to transnational crime activity, such as scamming and money laundering and to local risks such as non-transparent misuse of public funds,  sporting corruption, modern day slavery, fraud and cybercrime.
What can other organisations learn from you?
We take a positive approach – always working to uphold integrity and enhance transparency to deter corruption, and recognizing good practices in government and businesses;
We are completely independent – and this is reflected in our governance and in our partnerships and activities;
We believe that we have a lot to learn from people who work in other countries where they face more complex challenges and weak institutions of integrity;
We have a structure of partnerships that lends breadth and depth to a small NGO;
We actively pursue business opportunities with other organizations and individuals and to mutually support each other's work. Working with others is the best way to achieve our goals.

To what extent has your organisation been involved in the UNCAC Review Mechanism?
In 2021, the Al-Nahrain Foundation signed a cooperation agreement with the Federal Integrity Commission's Prevention Department to implement a two-year work program that implements the second chapter of the UN Convention against Corruption. We conducted an intense media campaign for two weeks.
This prompted the Iraqi government and the Federal Integrity Commission to grant us membership in the government team specialized in reviewing the United Nations Convention against Corruption, through reviewing and commenting on the self-assessment since the beginning of 2022, building mutual trust and respect and looking forward to more partnership and cooperation.
What motivates you/inspires you to work in anti-corruption?
I enjoy the challenge of exposing corruption loopholes, sharing them with the community, and working with the Federal Integrity Commission and the House of Representatives to close them for the greater good. Our organisation has a working team based on the work of many people with multiple specialties and experience of no less than ten years. This results in listening to our opinions and following our recommendations. I like this work despite the spread of corruption in my country and the dangerous security environment, but addressing any loophole that leads to corruption encourages me to persevere and provide the best.
What is an anti-corruption achievement you are proud of?
I feel proud of our efforts as an institution in implementing the Universities Against Corruption regional initiative in Iraq, and mobilizing students to contribute to writing case studies on the provisions of the UN Convention against Corruption. I consider this  effective work to educate on the Convention and pressure the Iraqi government to adhere to its optimal implementation.
Also, our work to support integrity in the health sector during the Corona pandemic contributed to exposing many corruption cases and led to the accountability of a large group of corrupt people in the health sector.
What have you learned from your organisation's work in anti-corruption that could be useful to others?
Working for change requires independence, evidence and mutual trust. Defining and addressing goals requires impartiality, and community participation is essential to fighting corruption.
Why is it important for you and your organisation to be a member of the UNCAC Coalition?
There is great opportunity for increased engagement of civil society in the UNCAC process, and for recognition by UNCAC parties, of the vital but different role played by civil society organisations. Realizing CSO impact is a good key to all future work of the UNCAC.
Is there anything that you would like to share that has not yet been mentioned?
In my country, oil revenues contribute to more than 91% of the country's public revenues, and a large group of multinational companies and national companies operate in the extractive industries sector. We have written a roadmap for beneficial ownership in companies operating in the extractive industries sector supported by applicable legal evidence and shared with the transparency initiative for extractive industries in Iraq and the Federal Integrity Commission, because its application reveals the amount of political dominance over financial resources.