21 October 2022 –
Transparency in political funding is at the heart of the international anti-corruption agenda. It plays a crucial role in keeping illicit money out of politics and elections and leveling the political and electoral playing field. As money and politics are essentially interlinked, regulating the finance of political parties and electoral campaigns is crucial to eradicate or reduce undue influence of money in democratic processes. Civil society organizations from the Asia-Pacific region fighting corruption met to discuss experiences, views and updates on the issue.
The UNCAC Coalition's 8th Regional Meeting of the Asia-Pacific Region was held virtually on Friday, 7 October 2022. The meeting gathered 15 participants including representatives from all over the region, Asia-Pacific members of the Coalition Coordination Committee (CCC), and colleagues from the Coalition's Vienna Hub. The Regional Coordinator for Asia-Pacific, Fatema Afroz, opened the meeting, introducing speakers from Malaysia and Pakistan along with other participants from different countries.
The meeting was kicked off with a few updates from Vienna. Denyse Degiorgio, Project Officer at the Vienna Hub, delivered messages about the UNCAC Coalition's recent activities in UNCAC fora, including participating in the UNCAC CoSP Intersessional meeting held in September and hosting side events on UNGASS follow-up related to recent developments in corruption prevention and asset recovery. The meeting also considered the findings of the UNCAC Coalition's research on Strengthening the UNCAC Review Mechanism, outlining challenges and recommendations for enhancing transparency, inclusiveness and effectiveness of the review mechanism. Danella Newman, Project Manager at the Vienna Hub, presented and recapped on the various tools that are being used by UNCAC Coalition, and called on the members to engage with them in order to make the review process more transparent & inclusive.


Political Finance: The Mother of All Corruption
To set the tone of the meeting one of the world's greatest financial scandals – the '1MDB scandal' was presented. Cynthia Gabriel, Co-founder and Executive Director of the Center for Corruption and Cronyism (C4), Malaysia, considers the 1MDB scandal as one of the largest financial heists in the world today, at the heart of which is 'political financing' – the mother of all corruption. After seven years, Malaysia observed a historic moment. For the first time a former prime minister of Malaysia was sentenced to prison after losing his final appeal against a conviction related to the theft of the state development fund, 1MDB. This is praiseworthy, demonstrating that the Malaysian judicial system has worked, proving its ability to rule in a high-profile and politically sensitive case. However, the need for legal strength is crucial to have momentum around the transparency of political financing.
Malaysia is in need of a law on political financing, which is expected to be considered before the parliament is dissolved ahead of the upcoming elections. Furthermore, as there are still cases of politicians living beyond their means with a lot of offshore property and assets, a law on asset declaration is equally important. The draft bill is currently being discussed, and there have been political consultations and debates in which C4 has participated. However, there are concerns about whether any real progress will be achieved or whether the situation will revert back to 'square one'. Malaysia's numerous gaps and structural loopholes need to be plugged, as many resources continue to be squandered. Cynthia concluded by expressing concern, and strongly encouraging civil society engagement in the process of reform.
Transparency in Political Finance in Pakistan
Mukhtar Ahmad Ali, Executive Director of the Centre for Peace and Development Initiatives (CPDI), Pakistan, presented his country's context, characterized by a lack of transparency in political financing. The state's civil-military dynamics and their trickling down into society results in a "complicated" political context.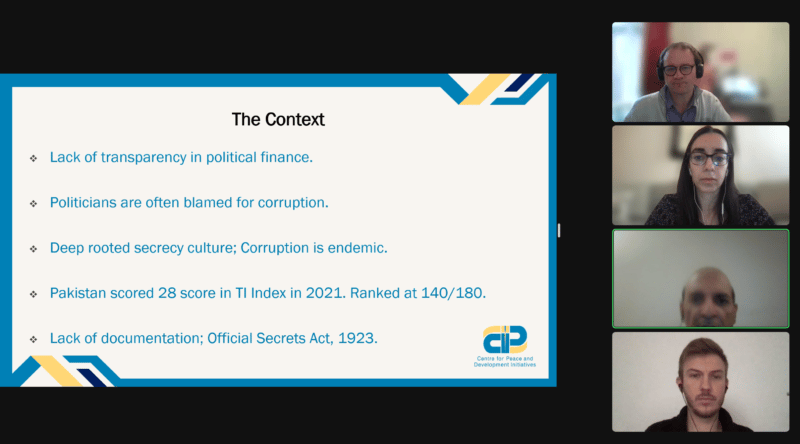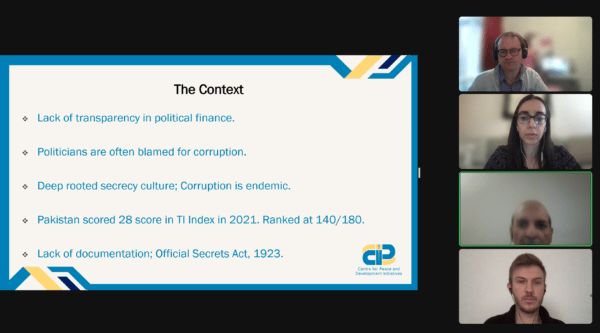 There are legal provisions for ensuring the declaration of assets. However, there is no state funding nor incentives for tax, with the political parties benefiting from fees, donations and contributions from members and supporters as their main sources of funding. There are no spending limits for parties in elections, and although candidates themselves do have limits, these are often overspent. The problem with spending caps is that they block individuals with limited means, and serve as barriers to entry for new electoral candidates. For this reason, political parties prefer candidates who already have money, as they can finance themselves while also contributing to the political parties.
It is also common that large business tycoons fund several parties simultaneously, in order to guarantee having a winner in the elections. Issues are also apparent in terms of the financial management of political parties. Political parties are often blamed for making use of suspicious funding, and there are concerns over the monitoring of campaign financing. Furthermore, there are allegations against parties receiving foreign funding, from potentially corrupt sources. Mukhtar emphasized that Pakistan needs a political system which enables parties to legally raise sufficient funds for campaigning while also respecting spending limits, to level the playing ground.
Concerns raised across the region after the main presentations included inadequacy in UNCAC provisions to encourage state legislation that addresses the challenge of linking local activism to international processes. Participants also sought to share experiences on the setting up of the legal framework, such as  prohibitions on donations, establishing limits and how they should be monitored, as well as how to overcome the challenges of swaying elections through misinformation, among others.
After a fruitful discussion, the Asia-Pacific regional meeting concluded with an invitation to continue sharing information and ideas among CSOs and individuals.
Tools and strategies to overcome challenges of UNCAC's review mechanism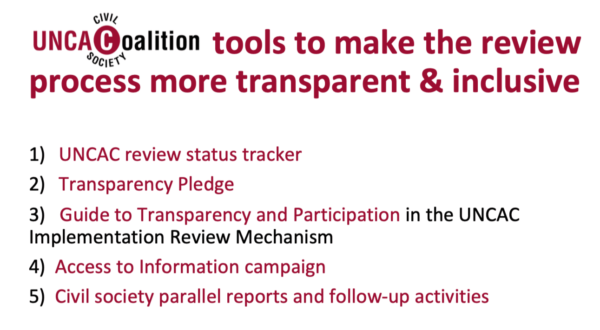 Along with reflecting on transparency in political financing, Danella Newman and Corinna Gilfillan from the Vienna Hub team, took the opportunity of the regional meeting to provide updates on the Coalition's most recent activities and present the challenges faced by the UNCAC review mechanism. These are, in particular, its low levels of transparency and inclusiveness. They also recalled the tools created by the UNCAC Coalition for organizations to get involved at the different stages of the review process, with examples from the Asia-Pacific region.
– a tracking tool which includes information about the UNCAC review status in each State Party to the UNCAC, links to available documents, Transparency Pledge signature status and compliance, information on parallel reports in the country, etc.
 In Asia-Pacific, approximately 28 reviews are ongoing.
Check your country's review status and get involved!
– a commitment by States to six principles of higher levels of transparency and civil society participation in the UNCAC review mechanism.
There is no signatory State in the Asia-Pacific region so far.
Check the UNCAC Review Status tracker to see if they are complying with it and hold them accountable. If your country has not signed the Pledge yet, but its 2nd cycle review is ongoing, then advocate for them to sign it and get involved in the review process.
– a guide for both States and civil society highlighting best practice examples of transparency and civil society participation in the UNCAC IRM.
– a campaign for more accountability and transparency in the UNCAC review mechanism, where CSOs around the world use the Coalition's ATI template to request essential information and documents on both the 1st and 2nd UNCAC review cycles and track levels of transparency and compliance with ATI legislation globally.
In the Asia-Pacific region, CSOs from 7 countries have so far participated in the campaign with varying results (none of them were fully successful; partially successful: Maldives, Mongolia, New Zealand; unsuccessful: Cambodia, Pakistan, Russia, Uzbekistan.)
Any civil society organization or anti-corruption activist can join the campaign. Write to

email hidden; JavaScript is required

to express your interest in participating!
– the Coalition supports CSOs from ODA-recipient countries in producing parallel reports on the implementation of Chapters II and V of the UNCAC to look at the implementation of the Convention's provisions in practice.
In the Asia-Pacific region, there are published parallel reports from CSOs from the following countries: Cambodia, Pakistan, Papua New Guinea and Uzbekistan; and ongoing parallel reports from: Bangladesh, Nepal, Kyrgyzstan, Sri Lanka.
The call for applications for support to write a parallel report is currently closed but will likely reopen soon.
Additionally, the UNCAC Coalition is carrying out comparative research to look at the good practices and lessons learned from other anti-corruption monitoring mechanisms that could inform our efforts to strengthen the UNCAC's Implementation Review Mechanism (IRM).
If you have experience working on anti-corruption monitoring mechanisms that could be useful to inform this research or you would like to learn more, please get in touch with Corinna Gilfillan, email hidden; JavaScript is required.
If you are a civil society activist from the Asia-Pacific region and would like to become involved, please contact our Regional Coordinator Fatema Afroz at
email hidden; JavaScript is required
.