13 October 2022 –
Beneficial ownership transparency is a topic gaining much attention on the international scene as a crucial tool to address many of the world's pressing issues. Disclosing information on who ultimately owns businesses can help achieve a wide variety of policy goals, from preventing conflicts of interest, high-level and cross-border corruption, to tracing and recovering stolen assets, tackling money laundering and tax evasion or carrying out a sustainable governance of natural resources. More than 100 jurisdictions globally have already taken relevant steps in setting up beneficial ownership registries, but much more concerted action is needed to fight complex and secretive company structures and close the gaps between countries with different levels of transparency and permissiveness.
The UNCAC Coalition's Europe network dedicated its 4th regional meeting to beneficial ownership transparency on October 5. Over 25 participants listened to expert presentations and discussed initiatives through which anti-corruption organizations are contributing to increase transparency about who are the real owners -and thus responsible individuals- of private companies, addressed current challenges and started thinking about advocacy objectives ahead of the 10th session of the UNCAC Conference of the States Parties (CoSP 10) in 2023. 
In terms of legal framework, the UNCAC recognises the importance of identifying and applying enhanced scrutiny over the legal and natural persons involved in the establishment and management of corporate entities (article 12) to prevent money-laundering (article 14) and detect transfers of proceeds of crime (article 52). In the European Union, the 5th and more far-reaching EU Anti-Money Laundering Directive, effective since January 2020, mandates Member States to set up publicly accessible registers of companies' beneficial owners. 
Strong political momentum for beneficial ownership transparency
Looking back at the past two years only, governments have been making commitments to beneficial ownership transparency in different fora and multi-stakeholder initiatives. The UN General Assembly Special Session (UNGASS) against Corruption, held in 2021, made company ownership information a key topic, following concrete recommendations from the FACTI Panel earlier that year. At CoSP 9 in December 2021, States Parties to the UNCAC adopted a resolution with a forward-looking approach that supports data consistency and international cooperation on the matter, although it regrettably omits public access to the information. 
In parallel, the Financial Action Task Force (FATF) reviewed its beneficial ownership requirements (Recommendation 24) through a public consultation, which the UNCAC Coalition took part in. The G20 pledged for the first time to adopt a real estate ownership registry to tackle transnational flows of corrupt money. And a growing number of countries are engaging in beneficial ownership information disclosure through their Open Government Partnership (OGP) action plans, and have used the platform proposed by the Summit for Democracy to commit to reforms.
Taking stock of progress achieved: uneven regulation in Europe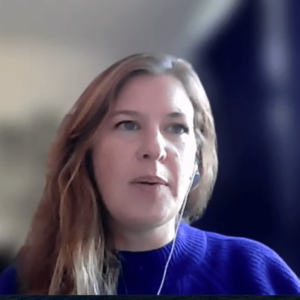 The three speakers of the regional meeting approached the issue at hand from different perspectives. To begin with, Maira Martini, Research and Policy Expert on Corrupt Money Flows from Transparency International (TI), presented an overview of the legal landscape of beneficial ownership transparency in Europe. She recalled that it is not only important for anti-money-laundering and terrorist financing, but also relevant, for instance, to ensure integrity in public procurement and political financing. The recognition of such registers as a key tool to increase transparency of beneficial owners, an idea that Transparency International has been advocating for, for a long time, was not taken for granted a few years ago. Now, EU countries are legally required to set up publicly accessible registers of beneficial owners. 
On a soon-to-be-published map of beneficial ownership transparency in the European Union, Maira gave examples of impacts and challenges that we see in this area. The main concern lies in the implementation of the EU Directive mandating for the creation of registers: these may exist in law but some have never been implemented or, when in place, are barely accessible. In fact, most of them do not meet civil society's expectations. In some cases, barriers remain, such as registration procedures and fees that hinder public access to the data.  In other cases, a restrictive coverage excludes certain types of companies (i.e. Ireland), or a high threshold of what can be considered a beneficial owner (for example, in Luxemburg, individuals owning at least 25% of the company's shares) poses a similar challenge to the goal of creating comprehensive registers. However, the main problem is the absence of verification of the data included in the registers: currently, only two countries have put in place independent verification mechanisms (Denmark and Austria). Finally, Maira made the point that registers of beneficial owners must have a purpose, which is the use of the information they contain by competent authorities and by citizens. If preconditions such as paying a fee or being a resident in the country are required, public access to information is not guaranteed.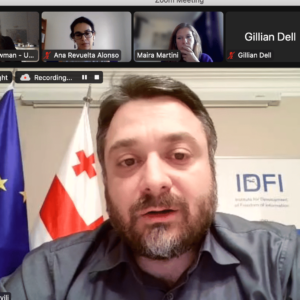 Next, Giorgi Kldiashvili, Executive Director of the Institute for Development of Freedom of Information (IDFI) in Georgia, showcased his experience in building a case for beneficial ownership transparency in a country without any regulation on the matter. This is one way IDFI aims to support society to have access to quality information and innovative tools, in order to advance the rule of law, increase public accountability and improve governance. 
Without a central register of beneficial owners, there is little transparency in the business sector and high risks of links to organized crime and corruption. For instance, a significant part of Georgian companies is, in fact, owned by foreign companies located in offshore centers which have significant assets (in real estate, capital, extractive industries) and participate in public procurement in Georgia. Watchdog organizations and journalists face obstacles when they seek to monitor the activity of suspicious companies and can only attempt to do so by requesting data from a number of institutions and by using different online platforms.
Therefore, IDFI undertakes comparative research, creates tools and seeks to put pressure on the government in alliance with other civil society organizations. After a first study on beneficial ownership standards in Georgia, published in 2020, they recently produced a regional report in partnership with organizations from the Visegrad countries (Hungary, Slovakia, Poland and the Czech Republic), consisting of an overview of the legal framework and practice of accessing data on beneficial owners of companies, and outlining policy recommendations for each country. They have also developed a practical toolkit to identify and monitor beneficial owners, which is used to train journalists, civic monitoring groups, researchers and citizens. In the future, IDFI plans to collect more data about offshore companies operating in Georgia.
Collective actions and coalitions to successfully advocate for beneficial ownership transparency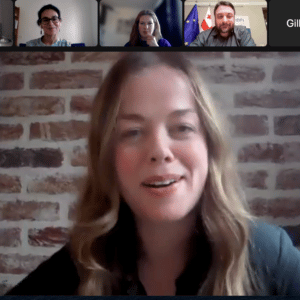 An organization that has successfully advocated for beneficial ownership transparency, also working as part of a coalition, is Transparency International UK. Rachel Davies Teka, Head of Advocacy, brought a compelling story of how this work was carried out for over a decade, focusing on three milestones. 
The UK Anti-Corruption Coalition, convening UK's organisations specialized in fighting corruption, started to work together (under a different name) in 2009. Using the window of opportunity of a willing government and a civil-society-friendly Prime Minister, their first success was obtaining the world's first beneficial ownership register in the UK. In the following period, the civil society coalition focused on making sure the information was verified. However, given the change at the head of the government, they had to reassess which stakeholders would help them reach this objective and recreate a network of champions in the government, as the previous effort was the former Prime Minister's flagship project. To do so, the coalition intensely pursued government officials in order to hold them accountable with the initial promise and having them recommit to transparency. Finally, in 2019, civil society organizations heard that the property register of beneficial ownership was going to be dropped, and decided to raise their voices against it. They contacted business leaders and former politicians to reach out to the government's highest level. When the Register of Overseas Entities, requiring companies that own land or property in the UK to declare their beneficial owners, was ready to be passed in January 2022, a government whistleblower immediately informed the coalition of the risk, again, that it be dropped. The UK Anticorruption Coalition was then able to carry out a campaign to raise awareness on the topic, which finally led to the register being approved. 
Looking ahead, TI UK is aware that many important concepts have been anchored into law, but now the challenge is the implementation of these laws, as well as addressing their remaining gaps. Finally, Rachel acknowledged three lessons learned from their experience:
To make an impact as civil society, we need to understand the landscape around us and the opportunities;

Big numbers resonate with people and are good for spreading a story, so using statistics to make a point and build an awareness-raising campaign is key;

"The wins are not quick." Donors and civil society should be aware that it takes several years to achieve results.
Turning beneficial ownership transparency commitments into results and impact
The discussion that followed with the participants in the meeting revolved around how to turn commitments into results and impact. Two key questions were examined: 
How do we implement the registers and engage governments to verify the

data? 

How do we put in place the UNCAC Coalition's advocacy ahead of the next CoSP?
Open Ownership, an organization fully dedicated to promoting beneficial ownership transparency and establishing standards, expressed the importance of mobilizing support from the private sector as they are key stakeholders on this issue. Also, within the private sector, stakeholder mapping is essential to identify champions. They also emphasized the problem of implementation gaps: getting a register is the first step, but the work does not end there. 
In terms of alliances, it is useful to work with different platforms and coalitions based on their expertise and specialisation to advocate for improvements. The international movement can make great strides when large international fora are organized, but political will at the national level is key. When governments are not interested in pursuing this topic, we must work collectively, use our networks, and double our efforts.
On the question of good examples of registers, we must look at specific aspects of beneficial ownership registers in different countries. For instance, Denmark ensures a register with good access to information but not good coverage. Austria has very good verification of data, but poor access for the public. 
Finally, looking ahead, we could work on advocating for the aspects we consider more important in a good beneficial ownership register, and set minimum standards for these registers. 
Tools and strategies to overcome challenges of UNCAC's review mechanism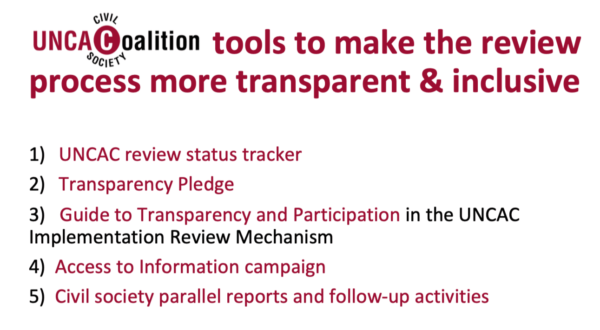 Along with reflecting on beneficial ownership transparency, Danella Newman and Corinna Gilfillan, from the Vienna Hub team, took the opportunity of the regional meeting to provide updates on the Coalition's most recent activities and present the challenges faced by the UNCAC review mechanism. These are, in particular, its low levels of transparency and inclusiveness. They also recalled the tools created by the UNCAC Coalition for organizations to get involved at the different stages of the review process, with examples from the European region. 
– a tracking tool which includes information about the UNCAC review status in each State Party to the UNCAC, links to available documents, Transparency Pledge signature status and compliance, information on parallel reports in the country, etc.
 In Europe, approximately 30 reviews are ongoing.

Check your country's review status and get involved!
– a commitment by States to six principles of higher levels of transparency and civil society participation in the UNCAC review mechanism. 
There are 33 signatory States so far (22 of them in Europe), but not all are in compliance with their commitment.

Check the UNCAC Review Status tracker to see if they are complying with it and hold them accountable. If your country has not signed the Pledge yet, but its 2nd cycle review is ongoing, then advocate for them to sign it and get involved in the review process

. 
– a guide for both States and civil society highlighting best practice examples of transparency and civil society participation in the UNCAC IRM.
– a campaign for more accountability and transparency in the UNCAC review mechanism, where CSOs around the world use the Coalition's ATI template to request essential information and documents on both the 1st and 2nd UNCAC review cycles and track levels of transparency and compliance with ATI legislation globally.  
In Europe, CSOs from 14 countries have so far participated in the campaign with varying results (successful: Bulgaria, Czechia; partially successful: Albania, Armenia, Croatia, Finland, Georgia, North Macedonia, Spain; unsuccessful: France, Greece, Hungary, Malta, Montenegro).

Any civil society organization or anti-corruption activist can join the campaign. Write to

email hidden; JavaScript is required

to express your interest in participating!
– the Coalition support CSOs from ODA-recipient countries in producing parallel reports on the implementation of Chapters II and V of the UNCAC to look at the implementation of the Convention's provisions in practice.
In Europe, there are parallel reports from CSOs from the following countries: Armenia (published), Georgia, Albania, Montenegro, Bosnia & Herzegovina, Serbia and Ukraine (paused).

The call for applications for support to write a parallel report is currently closed but will likely reopen soon.
Additionally, the UNCAC Coalition is carrying out comparative research to look at the good practices and lessons learned from other anti-corruption monitoring mechanisms that could inform our efforts to strengthen the UNCAC's Implementation Review Mechanism (IRM).
If you have experience working on anti-corruption monitoring mechanisms that could be useful to inform this research or you would like to learn more, please get in touch with Corinna Gilfillan, email hidden; JavaScript is required. 
If you are a civil society activist from Europe and would like to become involved, please contact our Regional Coordinator Ana Revuelta Alonso at
email hidden; JavaScript is required
.