16 May 2023 –
Youths can play a pivotal role in the fight against corruption with their creative approach to problem-solving. They can combat corruption through a culture of integrity. The 11th regional meeting of the Asia-Pacific region was held on 5 May 2023, focusing on youth in anti-corruption. The meeting gathered  participants from the region: Asia-Pacific members, affiliated groups and colleagues from the UNCAC Coalition's Vienna Hub. Regional Coordinator for Asia-Pacific, Fatema Afroz, opened the meeting, set the tone and introduced the presenters and other participants from across the region.
The discussion reflected the necessity of young people in the fight against corruption, and highlighted the challenges and potential for successful youth engagement in anti-corruption activities.
Anti-corruption: Why youth?
Meng Lyhor, a young anti-corruption fighter from Cambodia and currently working with Transparency International Cambodia presented on the necessity of youth and the challenges being faced as a young activist. She considers youth to be less interested in maintaining the status quo and more open to wide-scale socio-political transformation that may be required in a corruption-prone society. Young people can contribute to shaping the future. However, they are often obstructed in their work. Tl Cambodia's National Survey on youth perception of corruption and insecurity (2022) reflected that 30 % of the youth in Cambodia are afraid of having no protection and experiencing backlash, 25% don't think that reporting will have an impact, 24% have a lack of knowledge and 21% consider it not their duty to report corruption.
Meng feels that familial and societal constraints often prohibit the youth from expressing their opinions, raising their voices, and sharing experiences. The youth's movement against corruption is yet to flourish in Cambodia. Furthermore, there are instances of activists getting arrested which creates fear among young people. Meng stressed the need for an enabling environment with a legal framework for the protection the whistleblowers that will enable youth to report corruption. An open and transparent government should be promoted by increasing the effectiveness of access to information and freedom of speech. Educational institutions can focus on training students in upholding integrity and ethics and creating awareness about corruption. She dreams of a society where all recruitment processes are transparent, fair, and free of bribery and nepotism. Young anti-corruption fighters can lead through the use of technology as well as social media in raising awareness among peers.
See Meng Lyhor's full presentation here.
Youth in Anti-Corruption: An optimistic fight in the Philippines
Mark Jacinto, a young anti-corruption leader in the Philippines and the Curator of the Online SDG Youth Action Forum, presented on the status of and prospects for the youth's fight for anti-corruption and good governance. Mark considers youths as the hope to fight against corruption in the Philippines. Being more active in solving problems and enthusiastic to contribute to change, the energies of young people can potentially be used to eradicate corruption. Youths are at the forefront of lobbying for anti-corruption and good governance. Councils of young leaders in various small communities in the Philippines are impeding the spread political dynasties, which are avenues for potential corruption. At the same time, they are highlighting transparency and accountability through their work. They conduct training on financial transparency together with the Commission of Audit and Bureaus of Internal Revenue. Young leaders are being trained to be aware of what it means to be a good public servant promoting transparency. Mark considers combating corruption on the community level as very important, and the starting point from which a nation can be built.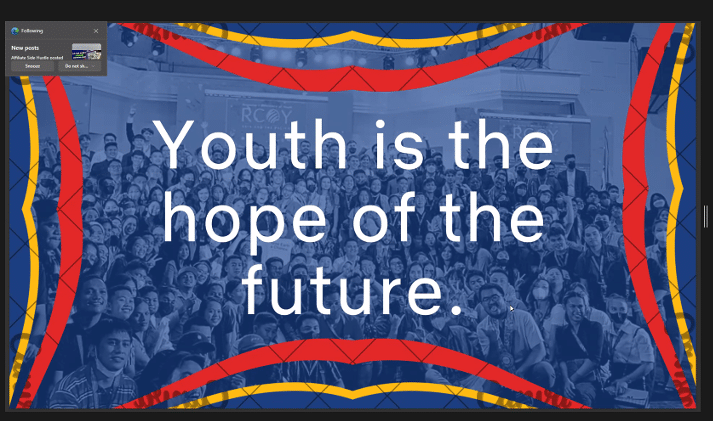 Young leaders are now using social media to demand and enhance accountability, and promote civic education. A great number of young leaders and youth organizations are brainstorming creative uses for Artificial Intelligence and art to push for anti-corruption and good governance. With connections to different youth leaders across the Philippines, Mark is optimistic: he believes that change can start with simple actions, such as promoting the values of transparency and accountability, even within small organizations. This can later result in developments on a broader level.
In the subsequent discussion, Mark expressed his gratefulness for initiatives from the UNODC and UNCAC Coalition. He believes these will inspire more young leaders, especially at the community level, which can affect other advocacy as well.
In the discussion segment of the regional meeting, other participants described their contexts and challenges which include young people and anti-corruption activists at large, all of whom are facing threats. One of the participants from a Central Asian country has several open criminal cases against them. Another participant from Malaysia considered three reasons behind the high strategic value of youth's involvement in anti-corruption, which includes: (i) Youth capacity to break the generational curse of corruption, (ii) The youth mindset that the ruling government can be changed through their votes, and finally (iii) extraordinary youth capabilities to mobilize through connectivity, including virtually, in the digital age. Participants generally agreed on the necessity of bringing more youth into the anti-corruption fight. However, legal and institutional support is instrumental to enhance their involvement.
The meeting concluded with the hope to engage more youths and with an invitation to Asia-Pacific members to continue sharing information with and among each other across the region.
If you are a civil society activist from Asia-Pacific and would like to become involved, please contact our Regional Coordinator Fatema Afroz at 
email hidden; JavaScript is required
.