27 March 2023 –
Corruption, gender, and inclusion – these concepts are closely connected. The relationship between gender and corruption has gained momentum through the sharing of women's experiences, perceptions, and sufferings from forms of corruption that differ from those of men. Prior to international women's day, the 10th virtual regional meeting of the UNCAC Coalition Asia-Pacific region was held, focusing on gender, inclusion and corruption. The meeting gathered 18 participants including representatives from the region, Asia-Pacific members, affiliated groups and colleagues from the Coalition's Vienna Hub. The Regional Coordinator for Asia-Pacific, Fatema Afroz, opened the meeting, set the tone and introduced the presenters and other participants from across the region.
The discussion reflected the differences between genders as it persists in other spheres of life. However, the nature and extent may vary according to the social context. Corruption itself can take gender-specific forms such as sexual extortion, or sextortion and there is a high level of sexual extortion in the Asia-Pacific region. Making the link between gender and corruption is expected to help develop a better understanding of corruption and also develop more effective anti-corruption advocacy strategies.
Challenges with mainstreaming gender in anti-corruption campaigns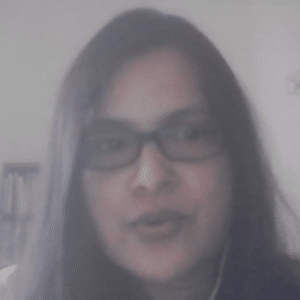 Gender mainstreaming, a critical and strategic approach to achieving gender equality commitments, was first endorsed by the Fourth World Conference on Women held in 1995. Mainstreaming gender in anti-corruption considers taking gender into account in all aspects of anti-corruption programmes. Nazneen Shifa, a freelance feminist anthropologist in Bangladesh and a Ph.D. scholar at the Center for Women's Studies, Jawaharlal Nehru University, India made her presentation on the challenges of gender mainstreaming in anti-corruption campaigns. She mentioned the assumption that considers women the marginal category among the worst victims of corruption. The notion suggests the promotion of gender equality in institutions that could reduce corruption. She found those ideas perplexing, because this conception of gender and corruption is derived from an essentialized notion of women being the fairer sex. However, she mentioned the assumption as a problematic one. To address this, there is a need for producing more knowledge through in-depth research. There are limitations in generating such knowledge as there are instances where the methods are reductive and based on specific indicators and they often fail to see the complex contexts in which women are situated in the gender and corruption discourse.
Nazneen expressed a need for more in-depth and ethnographic research to understand the relationship between gender and corruption. For example, the government models of Nordic countries are often used as examples to show how gender equality contributes to reducing corruption. Such models ignore the context of countries like Bangladesh, which have gone through structural adjustment models. The neo-liberalization of governance has brought more privatization in basic services like education and health and negatively affected people in marginalized positions. Such structural differences and power relations are often obscured in the gender and anti-corruption discourse. She argued that producing 'situated knowledge' can guide us better to see those relations of power critically. Over the years, the interpretation of gender and corruption has been extended. Yet, we are still promoting the same kind of essentialist and decontextualized knowledge.
Filipino Rural Women: Journey from Poverty and Exclusion to Freedom and Inclusion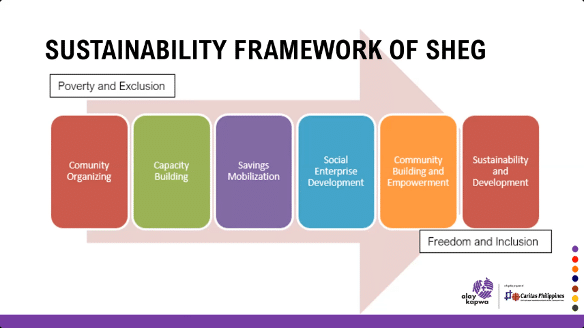 Women are often considered the worst victims of corruption due to their vulnerability in terms of economic and social exclusion. Jing Rey Henderson, from Caritas Philippines, shared the experiences of rural Filipino women, especially their experiences of poverty and exclusion and their journey to inclusion through implementing the 'Self-Help Group Approach' (SHeG). This approach includes a group of 15 to 25 women from various communities who are trained and encouraged to use their own voices to raise their needs. Each group works as a social enterprise. The Self-Help Group approach provides a platform for poor women to improve their economic conditions as well as to ensure adequate human development. There are more than 500 self-help groups established with more than 5000 members. However, there are still challenges regarding acceptance within the communities, concerns about sustainability, limited support, limited access to development funds and distrust from the government.
Mainstreaming gender in anti-corruption efforts: Experiences from Sri Lanka
There is growing consensus on mainstreaming gender in anti-corruption interventions. Kirupairajah Gowriswaran from TI Sri Lanka (TI SL) presented mainstreaming gender in their own anti-corruption programmes at different levels. At the strategic level, TI SL has developed a gender action plan to facilitate the implementation, monitoring, and reporting of gender-related interventions. They have supported project staff and programme partners in mainstreaming gender into various aspects of their work during the stages of planning, implementation, monitoring, and reporting. TI SL promotes gender mainstreaming through legal and advocacy programmes. At the project level, there are eight steps that are followed to ensure gender mainstreaming, including collecting sex-disaggregated data, assessing the gender division of labor and the patterns that affect the project, and the challenges of mainstreaming gender. There were initiatives to understand the complexity of gender relations in the context of social relations and how this can provide opportunities to address gender inequalities.
In the subsequent discussion, participants commented on issues relevant in their country contexts. Colleagues from TI Malaysia described perceptions of women as more ethical and having greater integrity in terms of being a perpetrator, a victim, and/or a whistleblower. Fewer women being in positions of power was a trend expressed by another participant working in Central Asia who posited that women are more likely to become victims of extortion. Another participant mentioned that women might have less social capital to become engaged in corruption. However, the social capital of men may allow them to avoid punishment in certain countries. The punishment for female perpetrators of corruption is inevitable and usually harsher: therefore, they tend to engage less in corrupt practice.
Conversely, another participant from Central Asia mentioned that in areas such as the judiciary, there are more women employed. Nevertheless, corruption permeates this sector, and decisions are seldom taken by the court without some additional form of payment or bribe. Other examples cited were corruption in the educational system, largely populated by female teachers, as well as the medical field in Kyrgyzstan. Female civil servants are working within a patriarchal system characterized by a lack of independence and strong ties to the executive branch.
The meeting concluded with an invitation to Asia-Pacific members to continue sharing information with and among each other across the region. They were also invited to join the UNCAC Coalition's working group on Gender, Inclusion, and Corruption: another opportunity to continue discussions on the issue.
If you are a civil society activist from Asia-Pacific and would like to become involved, please contact our Regional Coordinator Fatema Afroz at  
email hidden; JavaScript is required
.