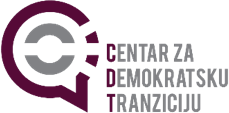 Country: Montenegro
Website: www.cdtmn.org
Focal Point: Dragan Koprivica, Executive Director
Email: email hidden; JavaScript is required
Tel: +38267404640
Mission and vision
CDT strives to promote democracy in Montenegro. Specifically, it aims to promote an honest and accountable government, a dynamic civil society, and an active and informed body of citizens. CDT's goals are achieved through the development and fostering of public dialogue, education of political stakeholders, advocacy and monitoring of institutions, processes and policies. Furthermore, CDT considers Montenegro as a civic society – a society of knowledge and equal opportunities based on democratic values and achievements.
General description of the CSO work in the anti-corruption area
CDT's work in the anti-corruption area is conducted through its Good Governance program. The various activities are implemented in order to contribute to more transparent and accountable public institutions (government, parliament, local municipalities and judiciary system in general). Moreover, emphasis is placed on the improvement of measures to promote transparency and accountability in the management of public finances through transparency and oversight over political finance in Montenegro and transparent asset cards. Target beneficiaries are CSO's, decision makers and the public in general. CDT provides evidence-based recommendations and implementation mechanisms for a more effective fight against corruption through its effective advocacy activities.
Specific description of the CSO work in relation to the UNCAC
CDT implements activities that are linked to UNCAC objectives, by benchmarking transparency and accountability of the judiciary and by providing evidence-based recommendations to responsible authorities, and capacity building. Furthermore, by benchmarking the performance of public bodies at the national level and providing analytical support to responsible authorities, CDT contributes to transparent, accountable and effective government and public administration in Montenegro. CDT conducts activities in aid of promoting more transparent and effective oversight over political finance in Montenegro, through the monitoring of the implementation of the law and work of the oversight agencies, monitoring of the financing of election campaigns and supporting the Agency for Prevention of Corruption. CDT has implemented activities aiming to increase the transparency and accountability of public officials through the creation of visualized asset declarations of the members of the Government that enabled better insight into the assets of the decision makers.