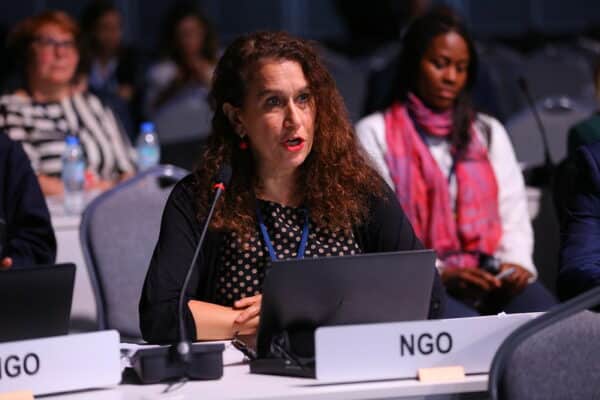 Organisation: Transparency International
Name of Organisation's Representative: Gillian Dell
Website:  www.transparency.org
Email: email hidden; JavaScript is required; email hidden; JavaScript is required
Country: International, registered in Germany
Which seat are you nominating for? International Member Organisation
Profile of Organisation
Transparency International is a global movement working in over 100 countries to end the injustice of corruption. We focus on issues with the greatest impact on people's lives and hold the powerful to account for the common good. Through our advocacy, campaigning and research, we work to expose the systems and networks that enable corruption to thrive, demanding greater transparency and integrity in all areas of public life and closing down the systems that allows bribery, illicit financial flows, money laundering, and the enablers of corruption to thrive. It is a fight for social and economic
justice, human rights, peace and security.
We advocate for anti-corruption policy on a global level through engaging with high-level policy makers and forums, including UNCAC forums, and through our investigations into grand corruption. We combat corruption on a national level through
our regional chapters, pushing legislation and actively engaging with key government ministries. We work with individuals and organisations against corruption on a local level by pushing cases through our 60+ Advocacy and Legal Centres. Information about TI's mission, vision, values and guiding principles can be found here.
Organisation's Experience
The TI-Secretariat (TIS) contributes to strategy development and decision-making of the UNCAC Coalition Coordination Committee (CCC) and works with the UNCAC Coalition Hub and CCC on developing policy positions and advocating towards UNCAC forums. In the lead-up to the UNGASS against Corruption, it worked with the Coalition on proposals and advocacy, including a joint submission on a multilateral agreement on asset recovery and a joint letter calling for the creation of an intergovernmental expert working group. TI panellists contributed to two UNCAC Coalition briefing sessions for Vienna delegations on beneficial ownership transparency and gaps in the UNCAC, as part of the Coalition's UNGASS-related advocacy. TIS has worked with the UNCAC Coalition on guidance material for civil society parallel reports for UNCAC reviews and is currently preparing to co-convene UNCAC Coalition working groups on grand corruption and another one on asset recovery.
The TI Secretariat (TIS) acted as the secretariat for the UNCAC Coalition from the Coalition's creation in 2006 until the Coalition's Vienna Hub was established in mid-2018. TIS work as Coalition secretariat in that period included support to CSO first cycle UNCAC review reports, coordination of the Coalition's advocacy work including at the UNCAC Conference of States Parties, trainings for CSOs in collaboration with UNODC, communications work, support to the UNCAC CCC, management of regional coordinators and fundraising.
Top Three Priorities to Achieve for the Coalition
Mobilise the membership: Mobilisation should include increased involvement of members in developing and carrying out the Coalition's global advocacy in key areas such as the UNCAC review mechanism, grand corruption, beneficial ownership transparency, victims' remedies, corruption and human rights and asset recovery. This should include reflection on how to achieve maximum impact through international advocacy towards UNCAC bodies and in national level advocacy towards governments.
Expand outreach: This should include development and implementation of a communications strategy for even greater engagement with the Coalition membership as well as external outreach, including social media work and especially building up press work. The Coalition should use its growing outreach to country delegations in Vienna to help inform national level advocacy by member organisations. The Coalition should also continue to expand its work liaising with Geneva human rights bodies and with other communities such as OGP, SDG16 and organisations involved in advocacy relating to the UN Convention against Transnational Organized Crime.
Consolidate: The Coalition's Vienna Hub has now established itself as a small but strong team, with growing international recognition. The Coalition should continue to consolidate the Vienna Hub's increasingly effective systems and processes for organising the work of the Hub, the CCC and the Coalition.
Profile of Candidate
Gillian Dell is Head of the Conventions Unit at the Transparency International Secretariat (TIS) in Berlin and has been Transparency International's representative on the UNCAC Coalition Coordination Committee for the last two years. She works on issues relating to grand corruption impunity, foreign bribery enforcement, asset recovery and international anti-corruption conventions. She has co-authored ten editions of the Exporting Corruption Report, about OECD Convention enforcement, including the most recent edition in 2020. In 2006, in her TIS role, she co-founded the UNCAC Coalition, a global civil society network dedicated to implementation of the UN Convention against Corruption, and until 2018 she led the TIS team providing its secretariat. Prior to joining TI in 1997, she worked in range of jobs including as a lawyer in a New York law firm; as a research fellow on international trade law issues at the Freie Universität Berlin; and as a consultant at the United Nations. She studied law at the University of California-Berkeley and at the Université Libre de Bruxelles and has a BA degree from Oxford University.