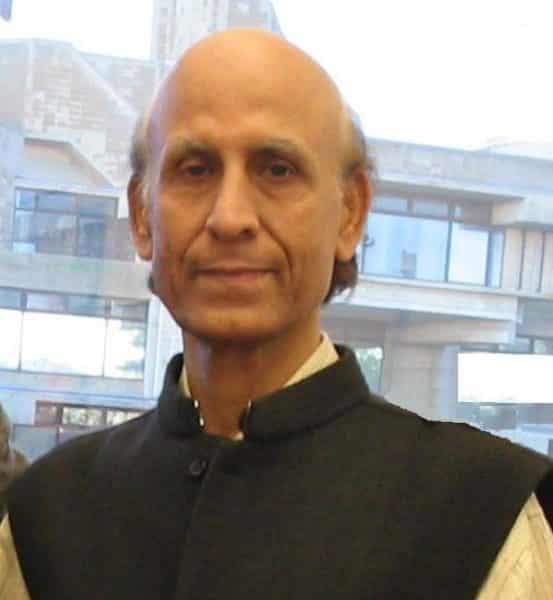 Organisation: Gram Bharati Samiti (GBS)
Name of Organisation's Representative: Bhawani Shanker Kusum
Website: www.gbsjaipur.org
Email: email hidden; JavaScript is required
Country: India
Which seat are you nominating for? South Asia Regional Seat
Profile of Organisation
Background
Gram Bharati Samiti (GBS) means Society for Rural Development was formed by Gandhian workers with a mission of "Establishing a society based on humanitarian, democratic values and ecologically balanced habitat" and registered on July 28, 1984 under Charitable Act. GBS has got special consultative status with ECOSOC, accreditation with UNCCD, UNEP and UNCTAD. It has a long association with UNCAC.
Affiliations:
Major accomplishments
HIV/AIDS
GBS being first NGO initiating in this field in Rajasthan in 1991 with a survey conducted in 10 districts continued intervention on prevention, treatment, care and support till today. Over 10,000 tribal people were benefitted.
Environment
The project 'GANDHIVAN' implemented on wasteland by planting over 100,000 trees of various species were recognized widely and conferred with several national/international awards.
Women's empowerment
GBS formed 710 SHG involving 7, 000 rural women in 132 villages, provided 1,400 with vocational training in different trades. Five hundred of them established their own household units who are earning livelihood sustainably.
Against corruption
GBS has conducted several campaigns to raise awareness among the village communities to stop bribing and fight against corruption in the bureaucracy in a peaceful Gandhian way.
www.gbsjaipur.org
Organisation's Experience
Key activities:
GBS established a people's forum consisting of community leaders, youth volunteers, lawyers and Gandhian workers to combat corruption prevalent in politics and bureaucracy. The forum meets regularly and provides training to volunteers to check the bribery and protest in a peaceful manner. GBS sensitizes the policymakers to enforce existing anti-corruption laws in the country. GBS organizes rallies, picketing, peaceful demonstration and hunger strike against bribery whenever it happens.
Checking trafficking of adolescent girls to be engaged in sex work at many places in India. GBS checks this trafficking at source and destination as well. The focus of GBS work is on advocacy and lobbying for enforcement of laws against trafficking by mobilizing local police and administration and training youth volunteers,
Preventing child labour, which is prevalent in many states in India including Rajasthan, especially in bangle making, embroidery and making bricks at kilns under very inhuman conditions. GBS has formed a committee comprising youth volunteers, community leaders. lawyers and like-minded CSO/NGOs, who inform us whenever children are trafficked for bondage labour. GBS attempts to emancipate them with help of local police and administration.
GBS actively participated in CoSP held in Marrakech in 2011
Top Three Priorities to Achieve for the Coalition
Increasing wide-scale membership of CSO/NGOs, particularly in the Asian region,
Popularizing the charter of UNCAC among women, community leaders and youth volunteers,
Training women and youth volunteers to fight against bribery and corruption in bureaucracy and politics in a peaceful Gandhian way.
Profile of Candidate
Bhawani Shanker Kusum – Secretary
Bhawani Shanker Kusum Masters in sociology has been inspired with Gandhian philosophy of "SARVODAYA" (universal uplift). He determined to fight against corruption by quitting government job in 1975 and worked for "Party less" democracy under the leadership of Jayprakash Narayan (J.P.), the eminent Gandhian. He was nominated by J.P. in the six members National Committee of Non-party Youth to work for a corruption-free peaceful society in 1977. He mobilized the youth of India for "Total transformation of the Society", through a nonviolent campaign against the corrupt political system.
He entered into freelance journalism in 1978 and started to write feature articles in leading dailies and weeklies namely 'NAVBHARAT TIMES' and 'RAJASTHAN PATRIKA, prominent thought-provoking Hindi magazines like 'DINMAN', 'DHARMYUG', 'RAVIVAR', 'ITWARI PATRIKA'' etc. He wrote a number of lead stories on various contemporary social issues including corruption, violence against women, clean politics, youth power etc. He coordinated the Knit India March with 200 youth on bicycles to spread the message of clean politics under the leadership of reverend Humanist Baba Amte in 1985 – 1987 in all parts of India. He was awarded with prestigious national Gandhian award 'Jamnalal Bajaj Award for constructive work' in 2019.
Jamnalal Bajaj Award:
http://www.jamnalalbajajawards.org/videos/jamnalal-bajaj-awards-2019-bhawani-shanker-kusum